by

Jamie Rich

|

August 27, 2018
Going Long with Blake Bortles
Jaguars quarterback Blake Bortles on growing up, kneeling down and finally breaking a very long losing streak
[caption id="attachment_9363" align="alignright" width="450"]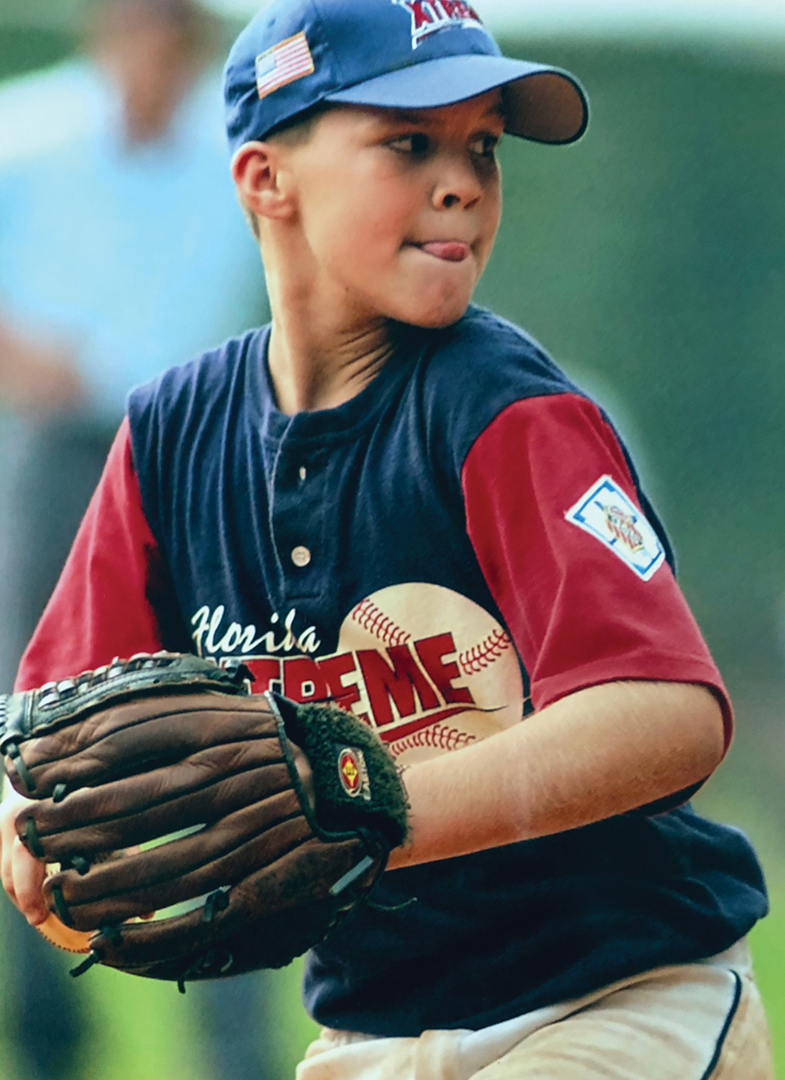 Bortles played football and baseball as a young athlete in Central Florida. Photography courtesy Suzy Bortles[/caption] Few NFL players have felt the gnawing pressure to win more than Jacksonville Jaguars starting quarterback Blake Bortles. Now 26, Bortles grew up in the tiny Orlando suburb of Oviedo playing baseball and football alongside his younger brother and eventually becoming the star quarterback at the University of Central Florida. At 6-foot-5 and 236 pounds, Bortles was drafted by Jacksonville in the first round as a rookie in 2014. Despite the young quarterback's celebrated arrival, the Jaguars continued to lose (13 games in the 2016 season), and the team has consistently ranked in the bottom third of the NFL for the last decade. The tide shifted in 2017 for Bortles and the Jaguars under new leadership and with the arrival of new players. The team advanced to the American Football Conference championship against New England, a match-up unimaginable only a year earlier. The Jags lost the game but won the respect of fans, starved for a winning season and a quarterback that can take it to the bank every week. Much has been written about the homegrown player's past bad throws and preferences for beers and blondes. But a few hard knocks on and off the field have forced Bortles to grow up, focus on the positive and rely on his signature sense of humor to shake off the haters. On a recent summer afternoon, ahead of a promising 2018 season,
Flamingo
Editor in Chief Jamie Rich sat down with Bortles at the Jaguars' TIAA Bank Field to talk Foxborough, Fleetwood Mac, the American flag and his love of Central Florida.
What was going through your mind last year when you played the Patriots for the AFC championship?
BB
: You know, it had been an incredible ride. We knew we had a really good team, and we knew it throughout training camp, and then it was proven throughout the season. Going into New England, it was kind of surreal because everyone dreams of playing in the Super Bowl and winning the Super Bowl. To be part of an organization that for the past decade hadn't made the playoffs and to be that close was special. The only thing that could have been better would have been getting to play that game at home in front of our fans in Jacksonville. But to do it in New England, in such a historic place in Foxborough—outside of playing in the Super Bowl, there couldn't be a better atmosphere to play in. So that was extremely exciting. We came up a little short. [caption id="attachment_9367" align="aligncenter" width="1080"]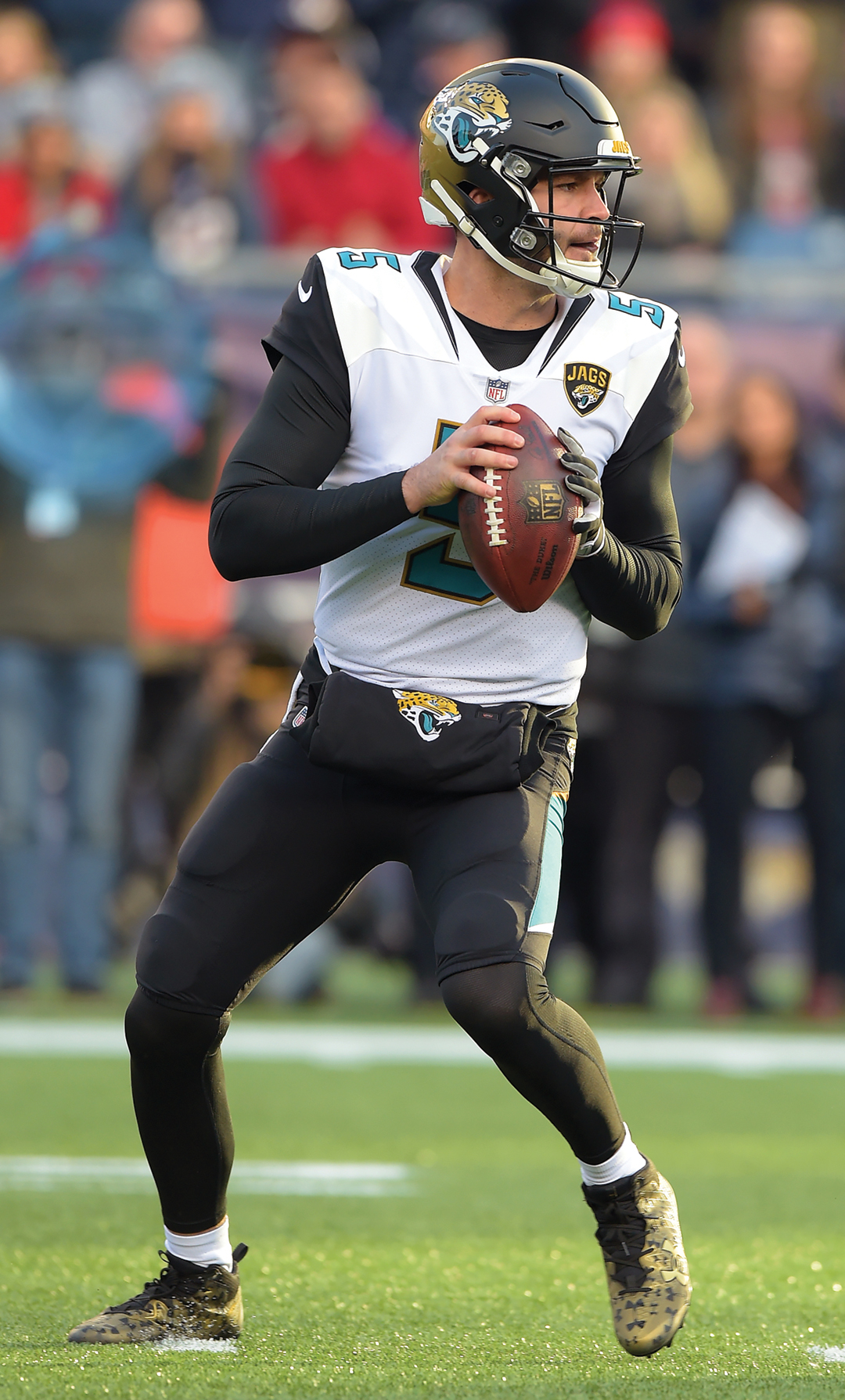 Jacksonville Jaguars quarterback Blake Bortles (5) drops back to pass against the New England Patriots in the AFC Championship game Sunday, January 21, 2018 in Foxboro, MA. AP Photo, Jacksonville Jaguars[/caption]
How did you feel about the evolution of the fans over the course of the season?
BB
: Playing in the first couple years, we weren't very good, and the team hadn't been good for a few years. There were still a lot of people who came to games. So to finally be able to give them something that was enjoyable to watch and something to be proud of, it was cool. It raises everybody's attitude, and it gives them something to be happy about. And there's nothing better than playing in front of a sold-out stadium at home.
What's it like playing in a stadium that's empty in the second half?
BB
: It's not fun. There were times in the past where I would throw an interception late in the game or something bad happens late in the game, and you see everybody get up and leave, and there's two minutes left in the third quarter. Those are tough. I wouldn't want to watch my home team get beat or play bad or do whatever, but to go through that and then have the year we did last year, I think a lot of those trials and tribulations and adversity that we went through are a big part of why I think this team is going to be successful for a while.
How are you feeling right now about the 2018 season?
BB
: Our defense is the best in the NFL. And it was a challenge every day going against them. We kind of snuck up on some people last year, but I think everybody's aware of who the Jaguars are. It definitely raised the bar of expectations in the public's perception of what kind of team we can be, and I think we're fully ready and capable of exceeding those expectations.
Do you think the difference was changing up the leadership on the team?
BB
: Coach [Doug] Marrone and Coach [Tom] Coughlin were a huge part of it. Them coming in and overhauling just the mindset and attitude in the locker room and how we were going to run our team and how everything was going to go as far as discipline and holding guys accountable and all that. Bringing in some older guys that have had a lot of success in this league, they were really able to help out in the locker room with the younger guys. [caption id="attachment_9365" align="aligncenter" width="1080"]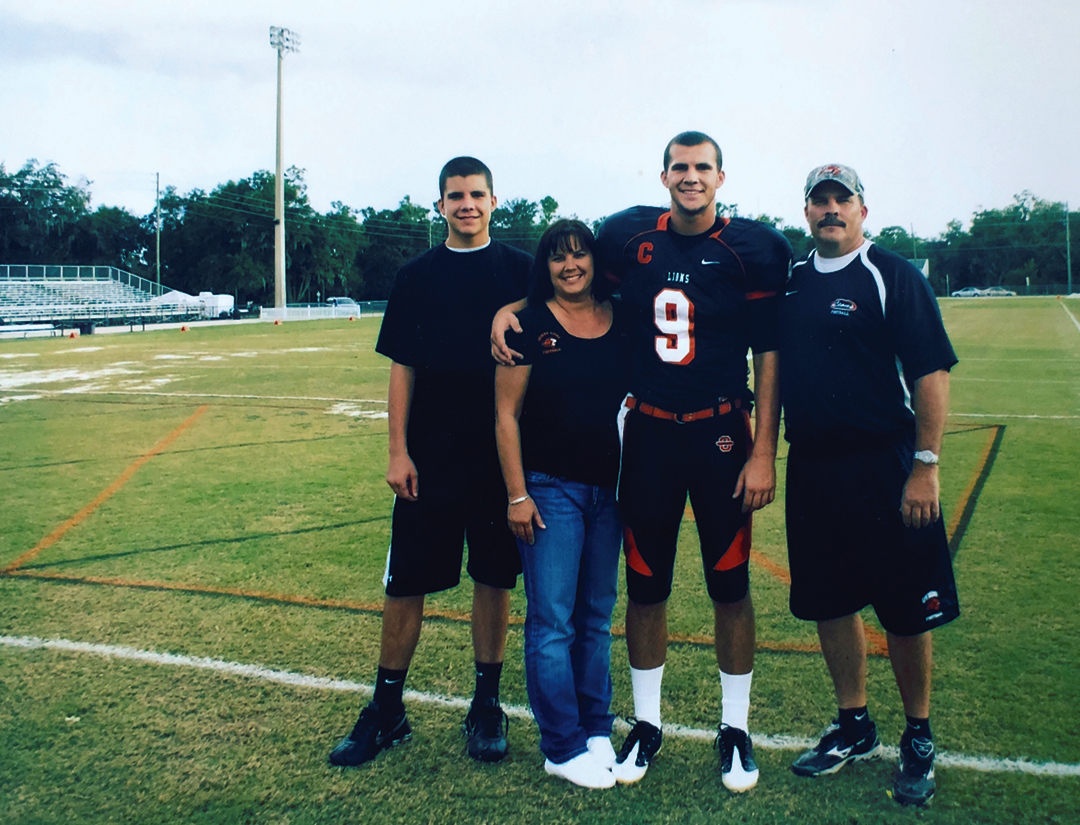 Bortles with his mom, dad and brother in Oviedo; Photography courtesy Suzy Bortles[/caption]
Let's talk about college football's changing playoff structure and UCF's undefeated season. Do you think they were cheated out of a title?
BB
: I think they're trying to find the best process possible to be able to crown a college football champion, and UCF happened to catch the wrong end of that as far as the playoffs are concerned. I think what UCF did is something to be extremely proud of. If they want to claim national champions, I'll proudly say that.
Tell us about growing up in Oviedo.
BB
: It's a really small town right next to UCF. It was the type of town where everybody went to the high school football games on Friday nights, and as a kid playing Pop Warner football, you idolize the guys who played varsity football. At the time, you really didn't think that there was a whole lot past that. I wanted to be a starting varsity football player for the Oviedo Lions. That was the dream growing up.
any favorite memories of growing up in Florida?
BB
: Being able to be outside year-round is something that I've always appreciated. My mom loved the beach. We played a ton of baseball when we were kids, so we would travel all over the state, and when we weren't playing baseball, it was a 40-minute drive to the beach.
Is there a person in your life whom you most admire?
BB
: My dad had a huge impact on me. He's done everything to support his family. He sells stuff, and he kind of grinded through that and was able to support everything that me and my brother wanted to do. And for the most part, it was just play as many sports as we could. He's also the best athlete that I've ever been around, still to this day.
FLAG ON THE PLAY
What's the toughest moment you've faced in the NFL?
BB
: My third year was probably the toughest. You kind of get a free pass as a rookie because they're like, "He doesn't really know what he's doing yet. He'll figure it out." The group of guys that I was with, we were all going into our third year for the most part, and we just really underperformed. I didn't play well. When I looked up in the stands, and there are moms and kids flicking you off, like, "You suck. Go home. We don't want you anymore." And it's like, "Man, this is what it's come to?" We won three games that year. So going through that 13 times was difficult to rebound and do it again the following week.
There were rumors that you were out at the bars every week. How did you deal with that?
BB
: That's a funny story. I'm at Mellow Mushroom this past Saturday. I played golf, and then I was going to pick up food and had like 25 minutes to wait. So I go in there, and the bartender comes up to me and is like, "Hey, when you walked in the door, I thought you were Blake Bortles, but as you got closer, I realized you're not him." And then he starts talking shit. He's like, "Yeah that guy's kind of a douche." So at this point, I really just want to see what he has to say, so I'm like, "What happened?" And he says, "Well, he came in here one time, and the bill was like $500." And I'm like, who spends $500 at Mellow Mushroom? "We gave him 50 percent off, and he tipped like $15." And I was like, I wouldn't do that for this exact reason, for people to be able to talk bad about it. And then he was like, "Yeah, after he got divorced, he used to be at Hoptinger on Tuesday nights, on cocaine in the back with his buddies." And I was like, I've never done cocaine or been to Hoptinger on a Tuesday night. I've never been married or divorced. I said, "All right, well, I'll just see you later." Walking out, it kind of hit me, it doesn't matter. I haven't been to a beach bar in like two years, but there are people just saying stuff.
You're probably nervous when you go out, like, "Who's watching?"
BB
: I'll just stay at my house or go somewhere a little more secluded to be able to enjoy time with friends. It's irrelevant, what you do. People are just going to make stuff up and talk about you, and as long as you know who you are and what you do, it's all right.
This is our arts and culture issue. What's on your playlist right now?
BB
: I was actually listening to the Pandora "Breakfast at Tiffany's" playlist. It's all kinds of good stuff. It's '90s alternative, Matchbox Twenty, Red Hot Chili Peppers. And then I like old stuff. I got a record player a year and a half ago.
So you're into vinyl?
BB
: Yep, big into vinyl, like the Beatles, Rolling Stones, Credence Clearwater Revival, Fleetwood Mac. So every holiday I get new vinyl from my parents. [caption id="attachment_9368" align="aligncenter" width="1080"]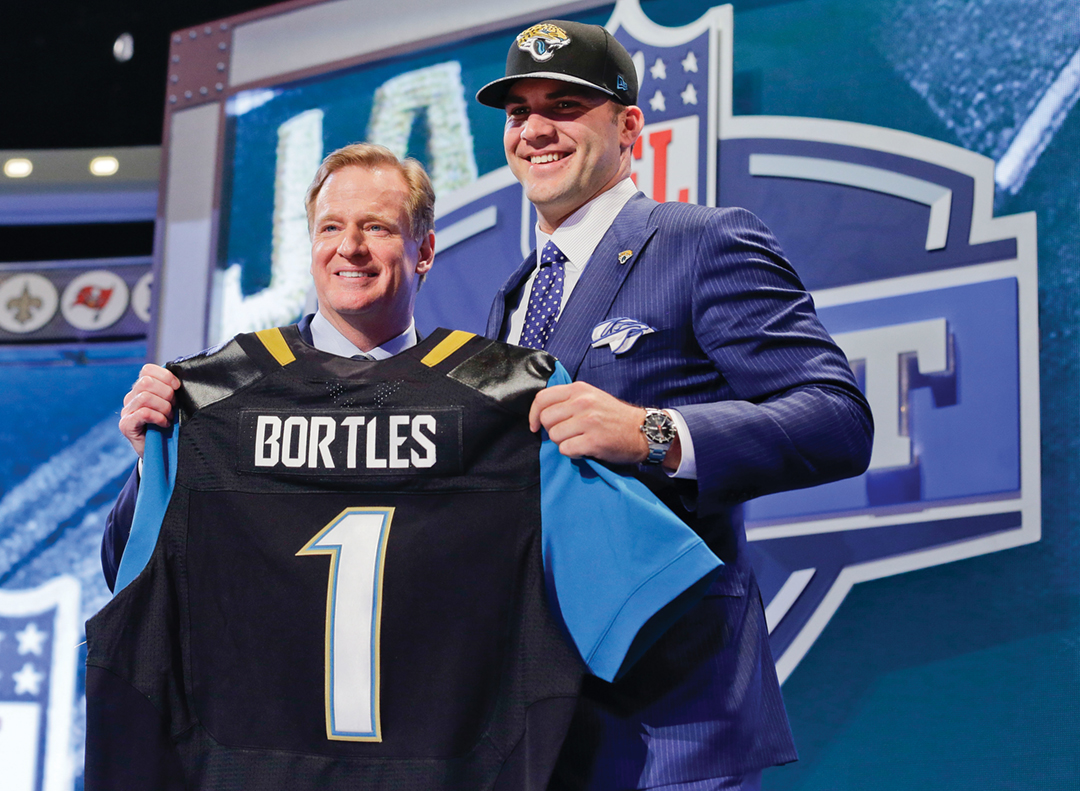 Blake Bortles poses with NFL commissioner Roger Gooddell after being selected as the third pick by the Jacksonville Jaguars in the first round of the 2014 NFL Draft, Thursday, May 8, 2014, in New York. AP Photo Jacksonville Jaguars[/caption]
VICTORY FORMATION
Before last year's season opener, the whole team stood arm in arm with Jaguars owner Shahid Khan, setting the tone for the whole league. What's the feeling in the locker room this year?
BB
: It's tough, because there's not anything going on within our locker room that is anywhere near comparable to the issues in society. And then there's guys on our team that deal with that outside, whether it's family members or friends or different things happening. And I think that standing arm in arm, we're just here in support. We're a close-knit group, and we're in this together as far as trying to figure out a way to make change and get things the way they should be as far as the way people should be treated.
What's your take on kneeling on the sidelines during the national anthem?
BB
: I think it's definitely bigger than just the act of taking a knee. I think there's a bigger purpose. I know the guys who participated and who had something that they wanted to accomplish as far as bringing recognition to issues in our community and our society. And I think, for the most part, they got people talking about it. Personally, for me, I have no problem with guys expressing their beliefs and what they're trying to get out there. It's America, the greatest country, and that's part of it, being able to have that freedom. But for me, I have tons of relatives in the Army and in the Navy and in the Marines. When the national anthem is played, that's a chance for me to honor them and those that have died defending our country. I'll always stand and take my hat off and put my hand over my heart for the national anthem, but I do really see both sides.
Tell me about your foundation.
BB
: My foundation is for mentally and physically disabled people. It started with kids and expanded into all ages, and then first responders, firefighters and cops. It all started in my hometown. There was a thing called Challenger League. The high school football team Saturday mornings would help mentally disabled kids play flag football. So I did that, and that created a relationship with a kid [named C.J.], and we became really close and family friends. And I was like, "Man, if I ever get enough money to go and do anything charitable, that would be something I'm really passionate about."