by

Katie Hendrick Vincent

|

May 28, 2018
Tarpon Tales from Gasparilla Island
The Island and its village of Boca Grande have long been a secret playground, where some of America's wealthiest and most well-known families seek privacy, a laid-back vibe and some of the best tarpon fishing in the world.
Six days before Easter, not a soul in Boca Grande exhibits a case of the Mondays. Not to be confused with the more metropolitan Boca Raton, this tiny village on Gasparilla Island, nestled between Sarasota and Fort Myers on the Gulf Coast, bursts with people reveling in the sublime 75-degree sunshine. Golfers and tennis players practice their swings. Families pack the patio of The Loose Caboose for an al fresco lunch. Ladies peruse the preppy assortment at Ariel Ltd.'s sidewalk sale. And William Wheeler III, who oversees Wheeler's Charter Fishing, scoots about town on "Rough Rider," a golf cart he's personalized with bumper stickers extolling his status: Boca Grande native.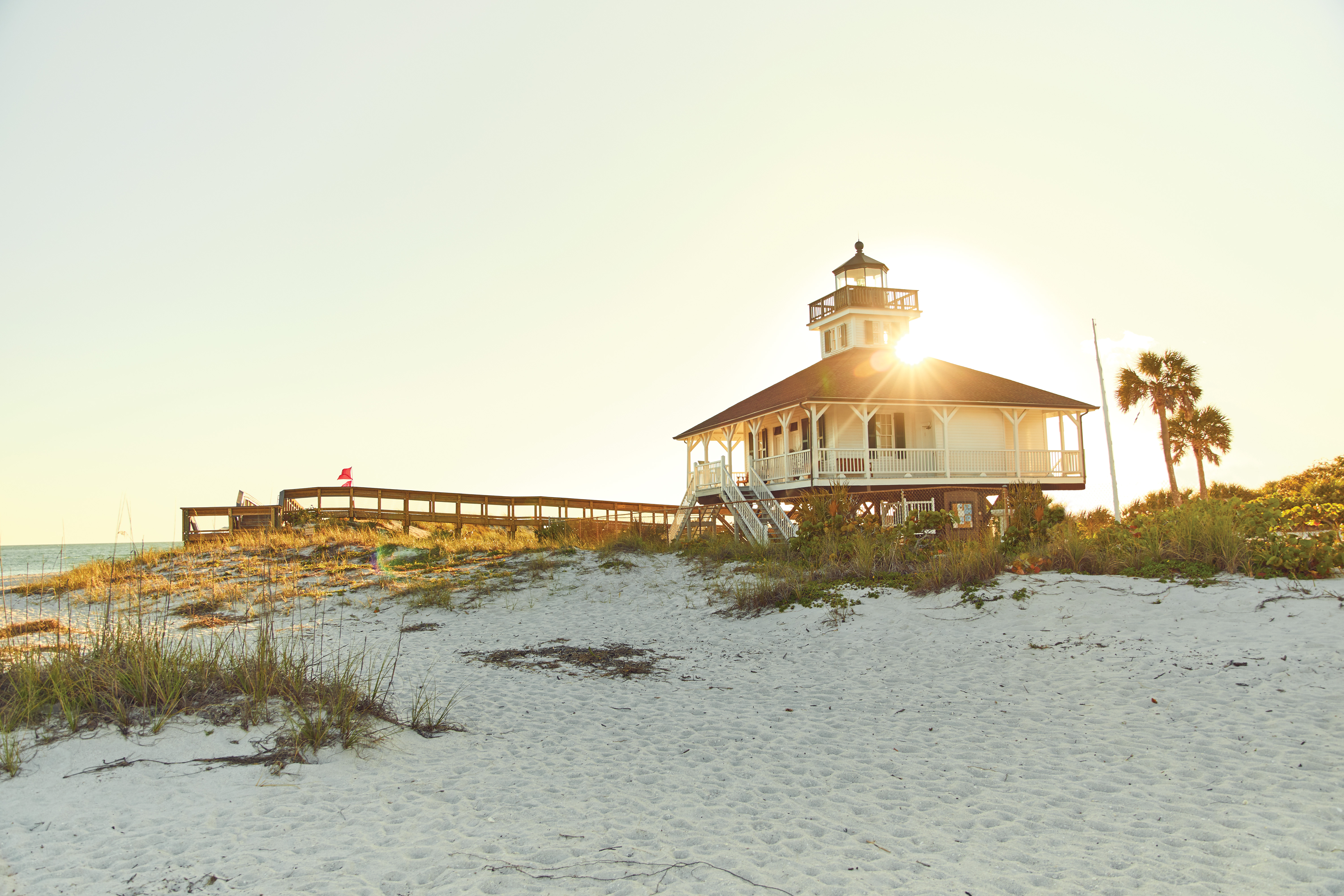 The island has seen its share of the rich and famous, from the du Ponts, Rockefellers and Astors to Katharine Hepburn, Harrison Ford and Jimmy Buffett. Both the Bush and Busch families make frequent visits. But no one receives as much attention as Wheeler, known to everyone as "Dumplin." This morning, in the span of two blocks, no fewer than five people stop him for a hug.
These days, the third-generation fishing guide, 75, bears a strong resemblance to actor Hal Holbrook, but his youthful self is immortalized in three different paintings, one of which is available for $350 at The Temptation Restaurant, known locally as "The Temp." Locals and tourists flock to Wheeler, as much for his expertise on the water as for his colorful stories of Boca Grande's past, particularly those involving Old Hitler, the rogue hammerhead shark that taunted boaters half a century ago.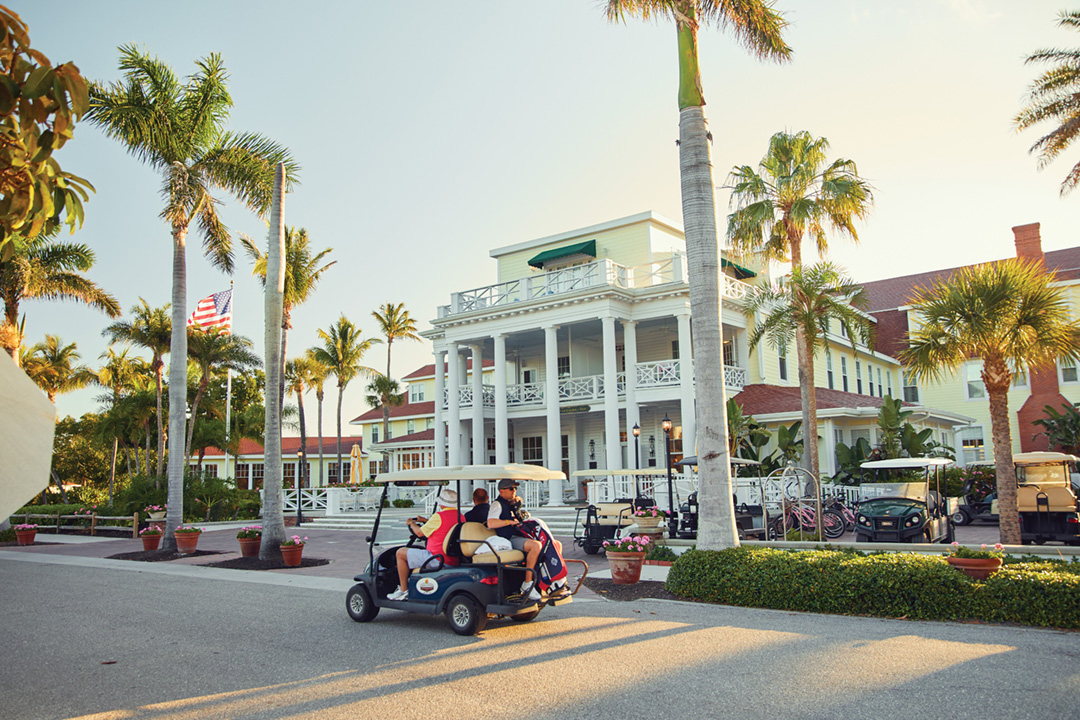 "This is my world," says Wheeler. There's nary a landmark on the roughly seven-mile-long island that doesn't feature in his personal history. Gesturing toward the bayou behind the historic Gasparilla Inn, he recalls the late 1940s, when he used to retrieve golf balls guests hit into the water.
"I'd collect them in my bathing suit, then sell them back to the golfers for $1.25 a dozen," he says.
A few years later, he walked the course as Olympic and LPGA superstar Mildred "Babe" Didrikson Zaharias's caddie. Across the street at The Pink Elephant, his mother, Doris, slung drinks, served countless bowls of fish chowder and kept raucous customers in line for more than four decades. Barely five feet tall, she disappeared beneath patrons' shoulders on crowded nights, and a teenage Wheeler would sass her by hollering "Doris!" and requesting an adult beverage.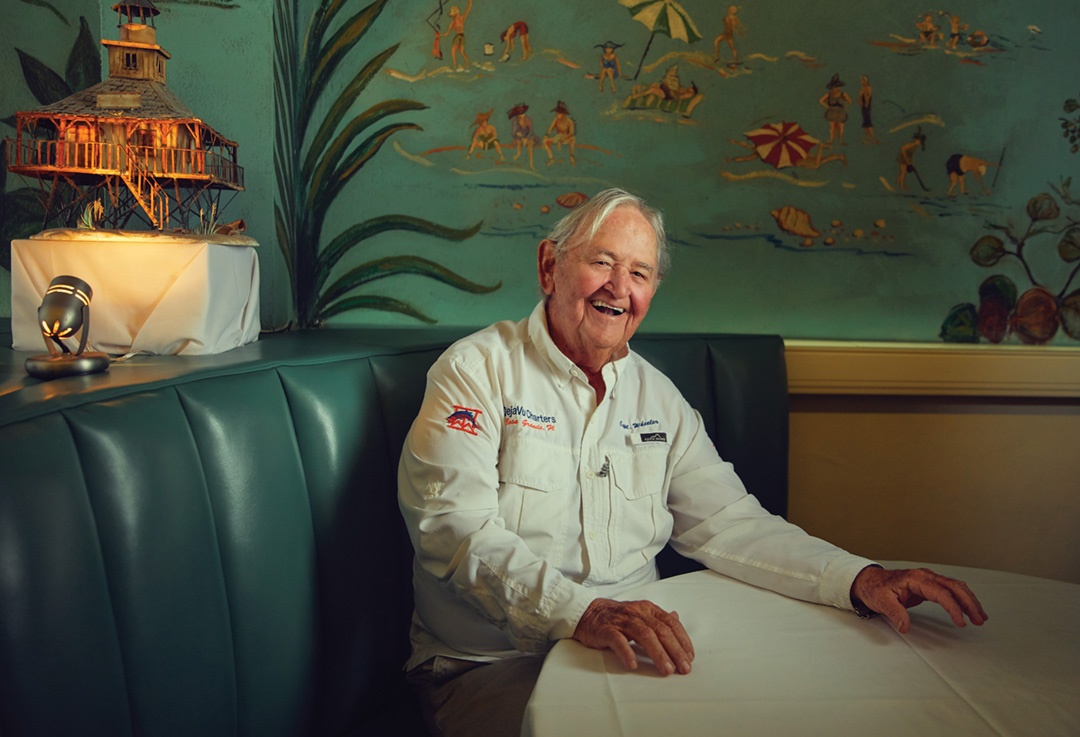 "When she realized who called her, boy, did she give me a piece of her mind," he says with an impish smile.
Others found his boyhood shenanigans more charming, says Mark Futch, 63, a seaplane pilot who is Wheeler's cousin and fellow guide. One of his favorite family stories recounts their Uncle Nat teaching curse words to 5-year-old Wheeler, who then decided to practice his new vocabulary while greeting Mr. and Mrs. Crowninshield, members of a prominent New England seafaring and publishing family, at the train depot.
"How are you doing, Dumplin?" Mr. Crowninshield asked.
"Not too bad, you son of a bitch," Wheeler replied. Supposedly, the aristocrats laughed off the exchange—at least, that's the version of the story passed down for decades.
MARITIME ROOTS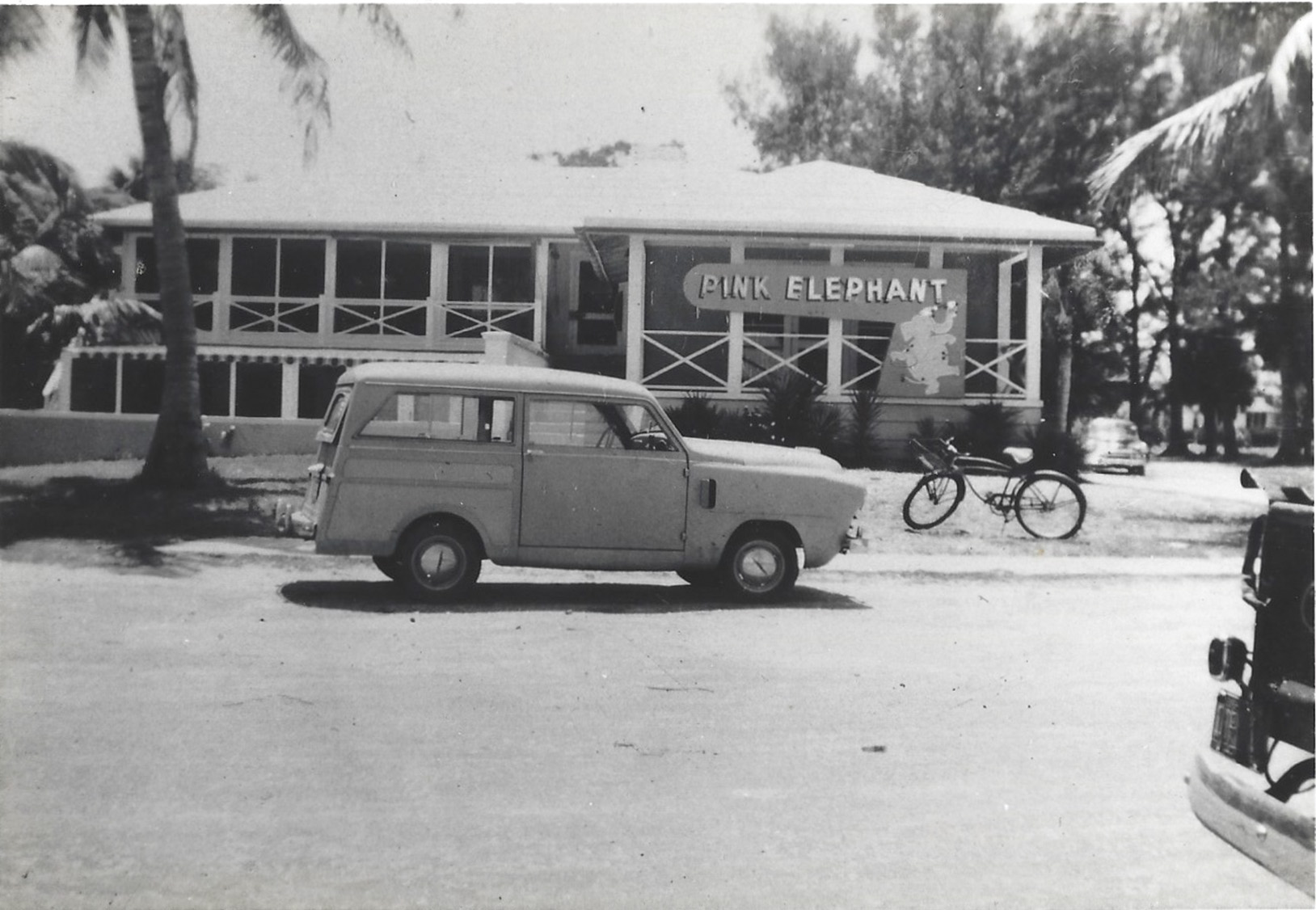 The bulk of Wheeler's and Futch's memories, however, unfolded on the water. Their ancestors weren't the island's first fishermen—the Calusa Indians claimed that title centuries earlier—but they were pioneers in commercializing the practice. They caught thousands upon thousands of pounds of mullet with entanglement nets until the state outlawed the practice in 1985. Their family's celebrity, though, comes from sportfishing.
Orphaned during the Civil War and raised by a tyrannical foster father in Key West, Frank Cicero Futch, the duo's great-grandfather, escaped to Gasparilla Island at age 15 in 1876, about the same time that German machinist Edward vom Hofe started manufacturing a reel for big game fish.
"[The reel] was created specifically to catch tarpon in Boca Grande Pass," says Futch, captain of Sitarah, a 34-foot Blue Marlin Hull he built himself. For millennia, he explains, tens of thousands of tarpons have congregated in the area from April to August to fatten up ahead of their offshore breeding ritual.
---
Like what you read? Click here to subscribe.
---
By the 1890s, Frank Futch was adept at catching the 60-plus-pound fish, a skill he taught his eight sons. They, in turn, passed down the tradition to their sons and nephews, who did the same. Over the past century, elites and celebrities from around the world have turned to the famous Futch boys for help hooking the "silver king."
A COMMUNITY IS BORN
While the first generation of Futches stayed busy setting hooks and fighting fish, land-based activity 50 miles northeast put in motion the island's future development.
Phosphate, a byproduct of prehistoric animals and a valuable mineral used in fertilizers, was discovered in rocks near Arcadia in the early 1880s. Eager to ship it around the world, leaders of the American Agricultural Chemical Company (AACO) eyed Boca Grande Pass, one of the deepest inlets in the state and the inspiration behind the town's name, which translates to "Big Mouth." They built a port on the south end of Gasparilla Island, barged the mineral down the Peace River to Charlotte Harbor and Gasparilla Sound, and loaded it onto schooners that took it out to sea.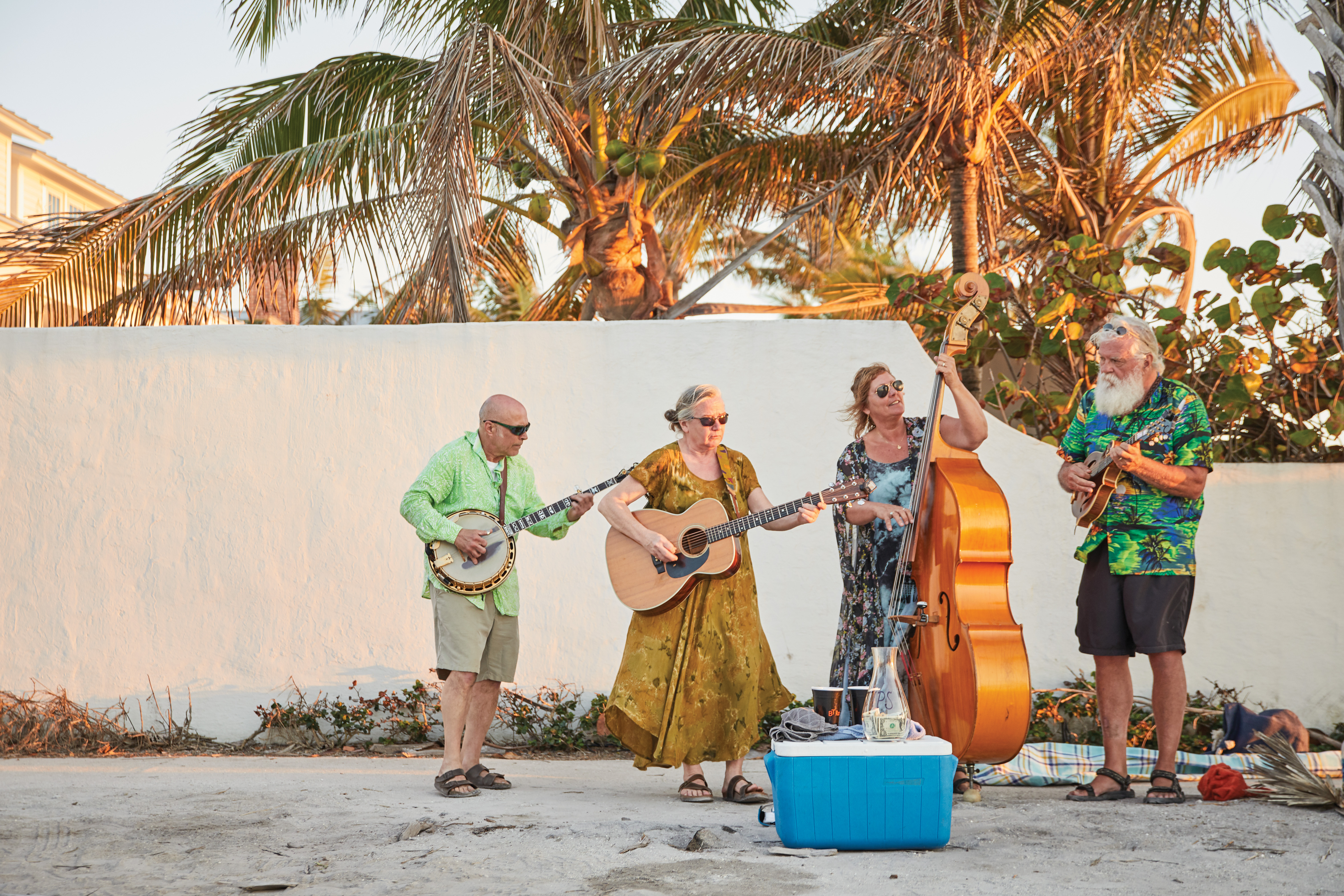 Around the turn of the century, Peter Bradley, an AACO board member, recognized that transporting phosphate by train would improve efficiency, so he and his senior managers acquired a railroad company. Construction on the Charlotte Harbor and Northern railroad began in 1905; meanwhile, Bradley and another board member at the railroad company, James Gifford, reviewed the town plat (drawn up in 1897 by future Florida governor Albert Gilchrist), bought up land and planned a hotel where AACO executives could stay.
The Hotel Boca Grande opened in 1911 on the east side of the island and immediately swelled to capacity, as executives brought along their wives and children. In response, Bradley doubled the size of the building and reopened it under a new name in February 1913. To his shock and dismay, The Gasparilla Inn debuted without a single
reservation.
Then a widow from Boston telegrammed. She desperately wanted to escape the snow and had heard about the quaint hotel on a quiet island. Could she get a room? A shrewd businessman, Bradley sat on the request for a few days before answering, "We'll try to squeeze you in, but first we'll need your references." She complied, setting off a chain reaction; her references sent references, and so forth—everyone wanted to stay at such an exclusive place. By March, all 40 rooms were booked.
"We don't know her identity—Peter Bradley guarded visitors' privacy—but we have a feeling her offspring stays with us today," says Tina Malasics, the inn's historian. "Because our advertising was solely word-of-mouth for so long, a lot of our clientele first came here with their parents or grandparents."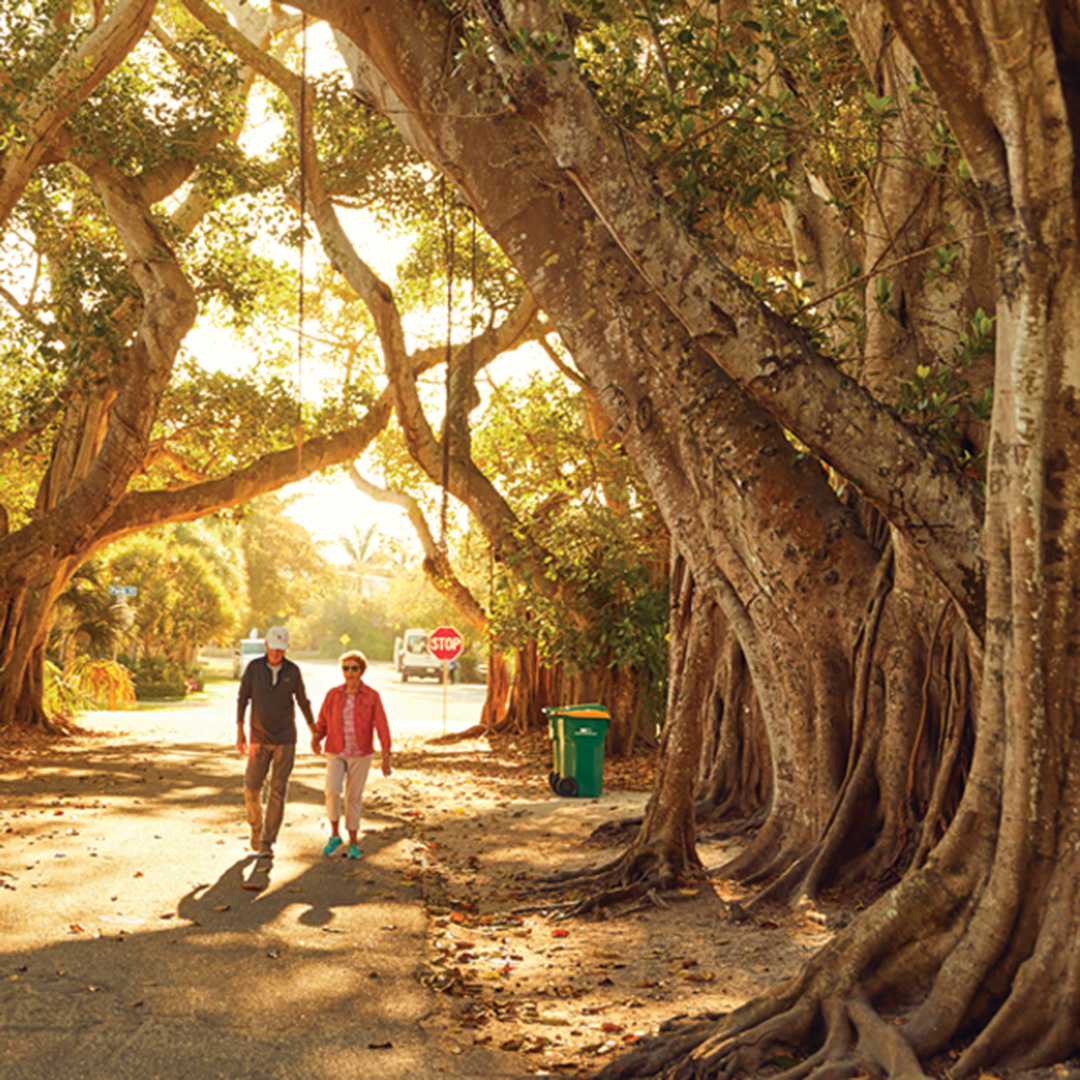 HAPPY HAVEN
In 1930, advertising tycoon turned behemoth developer Barron Collier bought the Inn, expanded it and added neoclassical columns and verandas for a stately Southern feel. As the inn's appeal grew, so did Boca Grande's. The town swiftly became a winter retreat for some of the nation's most distinguished personalities, who sought world-class fishing as well as privacy. Several wound up building their own Boca Grande estates, primarily along the Gulf, earning them the nickname "beachfronters."
"For a long time, this was a blue blood hideaway," says Wheeler, whose relatives were fishing guides for Henry Ford, tire magnate Harvey Firestone, and former President Theodore Roosevelt, among many others. "They fought the causeway [which opened in 1958] for years because they didn't want to lose the seclusion." In the old days, he explains, if you missed the train, the only way onto the island was to call a friend with a boat—or walk the trestles.
"Very dangerous move," Wheeler says. "I have a scar on my knee to prove it."
Although wary of tourists spoiling their secret sanctuary, the beachfronters have always revered the locals.
"They appreciate the work we do for them, and we're grateful for the business," says Futch, who has worked with the likes of Neil Armstrong and Denzel Washington. "There's never been any polarization here. We all mix together."
That camaraderie stood out to Karen Grace and her husband, Jim, when they first visited idyllic Boca Grande in the 1970s.
"You'd walk into The Temp and there'd be a billionaire sitting at a bar stool next to a working guy," she says. "Unless you personally knew them, you couldn't distinguish who was who."
Everyone sported the same casual attire (Columbia fishing shirts, mostly) and attitude. Instantly enchanted, the Ohio couple moved as soon as they could and have been active in Boca Grande's historical society for years.
Paul Hudson, a wealth manager in Sarasota whose parents used to run the island's local grocery store, describes a "Huck Finn–esque childhood," where kids from ages 5 to 17 hung out together, usually jumping off bridges or fishing until dusk.
"There weren't many of us on an island that size, so we became very tight-knit. Everyone was a friend."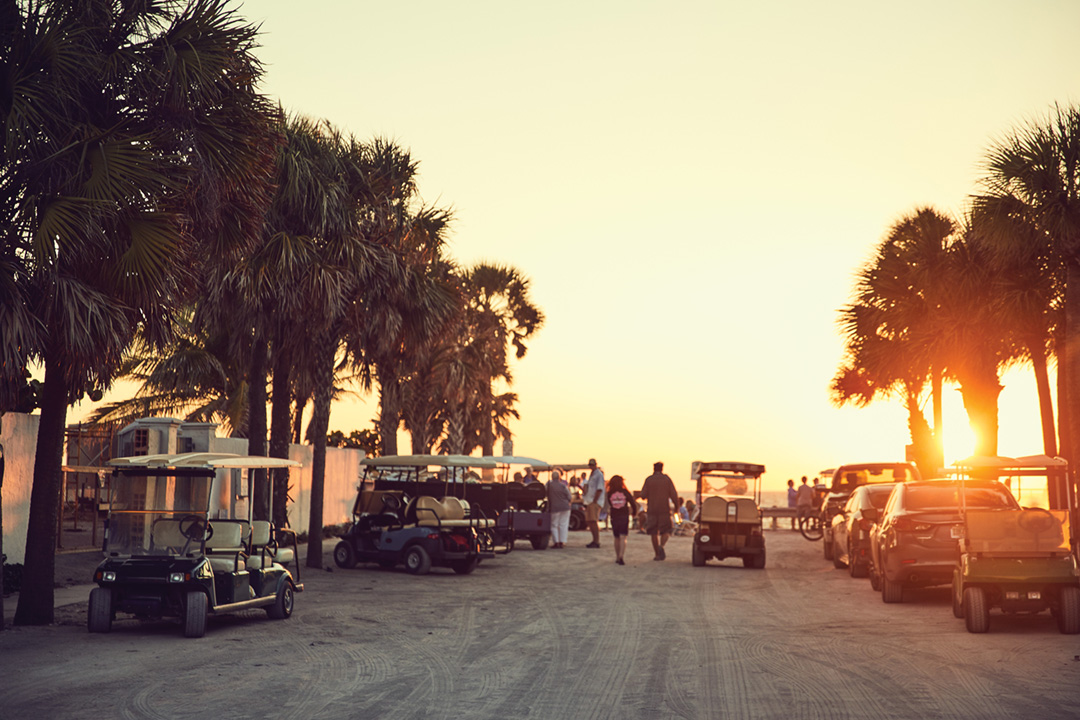 PARADISE (NEARLY) LOST
The island's unified spirit came out in full force five years ago to combat the Professional Tarpon Tournament Series, a nationally televised competition that brought scores of boats into Boca Grande Pass in pursuit of a covetable purse prize. Described by its host as "NASCAR on the water," the tournament rankled local captains who feared it would destroy their treasured fishery.
"It was a reality show—complete with girls in skimpy bikinis—masquerading as a sporting event," says Futch, one of the tournament's most vocal opponents. His outrage stemmed from a fishing technique that the Florida Fish and Wildlife Conservation Commission later banned from use in Boca Grande. Many Professional Tarpon Tournament Series contestants used artificial lures that snagged tarpons rather than requiring the fish to bite, frequently killing them.
"Tarpon were floating belly-up on the beach left and right," Wheeler says. "It was awful."
A group of local guides formed a nonprofit, Save the Tarpon, that called out tournament officials and sponsors. A costly and contentious legal battle ensued between Save the Tarpon and Silver King Entertainment LLC, which hosted Professional Tarpon Tournament Series , but the Boca Grande fishermen prevailed. The tournament ceased in 2016, and the FWC passed several regulations to protect tarpons, including redrawing the boundaries within which certain gear can be used. Now, the fish's main predators are sharks, and the captains' livelihood is secure for the foreseeable future.
Futch intends to continue guiding for as long as he can. "Aviation put my kids through college, but this is my birthright and my passion," he says, while making last-minute repairs to Sitarah before the upcoming season. "There's nothing more satisfying than helping someone catch their first tarpon."
Wheeler, on the other hand, finds retirement just out of reach. "I've been trying to quit for years," he says. "But my favorite clients keep coming back and asking for me. How can I tell them no?"