by

Carlton Ward Jr.

|

November 24, 2016
Florida Wild: Reef at Loggerhead Key
Photographs & Field Notes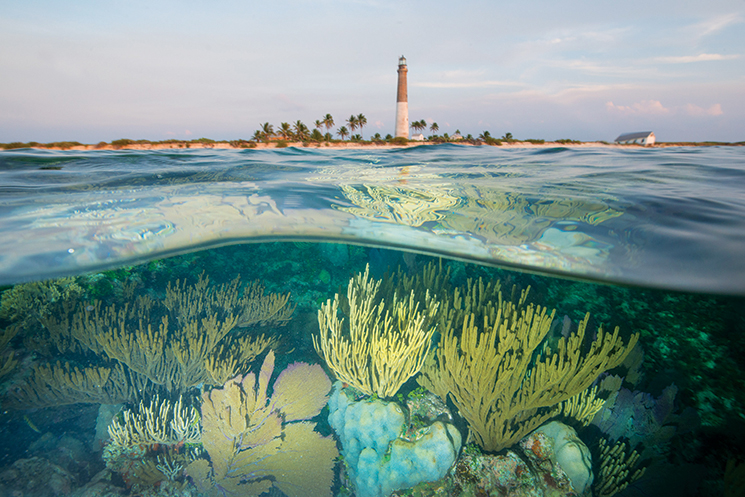 Loggerhead Key in Dry Tortugas National Park is about as far out as you can go without leaving Florida. It is positioned at the tip of the Florida Reef, the third largest coral barrier reef in the world, and lies between the Gulf of Mexico to the north, the Straits of Florida to the south, and Key West 70 miles to the east, only a few miles closer than Havana.
The west side of Loggerhead Key offers protection from easterly winds and waves, and the leeward reef is shallow enough to allow one to attempt split-level photography with views above and beneath the surface.
Before finally capturing this photo, I tried (unsuccessfully) for two days, swimming against strong currents and side shore winds that stirred turbid waters. Then, on day three, the conditions calmed, and I swam back out to the reef to experience this scene. I set the exposure for the evening light above the horizon and adjusted an underwater flash to illuminate the corals in the foreground.
The health and beauty of the corals in this photo are unfortunately not the norm for the Florida Reef. Coral reefs are in bad shape in the upper Keys, where runoff from development and pollution are leading causes of catastrophic decline (and warming seas). Dry Tortugas reefs are faring much better. Even there, though, corals are not out of harm's way, their fragility reminding us that all life is connected to the oceans and what we do on land affects everything.