by

Jamie Rich

|

August 25, 2016
Power House: At Home with the Tedeschi Trucks Band
Susan Tedeschi and Derek Trucks, the married duo have rocked their way from the House of Blues to the White House with a sound even they can't quite define. Flamingo recently caught up with the couple at home in Florida. 
[caption id="attachment_2406" align="aligncenter" width="960"]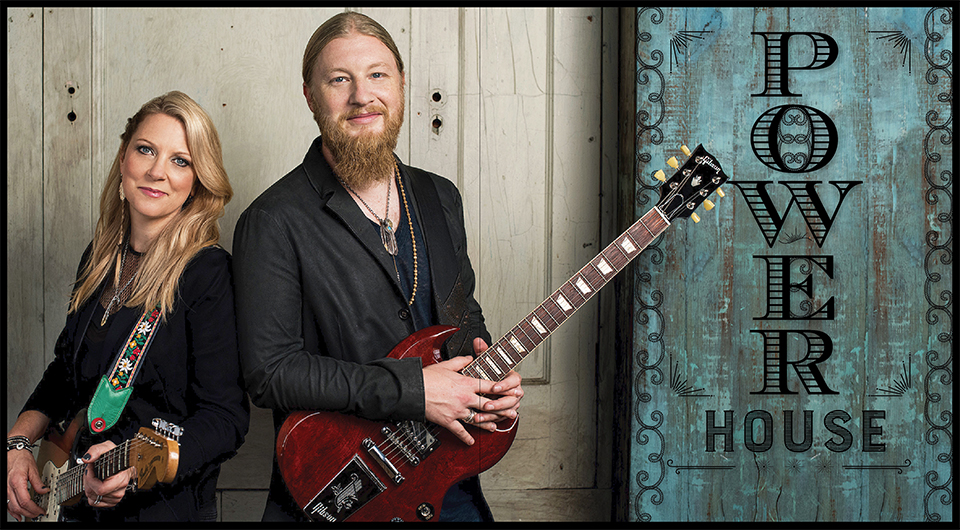 Susan Tedeschi and Derek Trucks; Photography by Tedeschi Trucks Band[/caption] Together, Susan Tedeschi and Derek Trucks front a Grammy award–winning, 12-member ensemble that both defies and exalts the genres that have shaped them—blues, jazz, funk, roots, Southern rock. Their soul-stirring, roof-raising performances, featuring Susan's soaring voice, Derek's emotive slide guitar and a crew of world-class musicians blowing horns, tickling keys and singing harmonies, have inspired an international following. And it all started here in the Sunshine State. The Tedeschi Trucks Band (TTB) released their fourth album,
Let Me Get By
, in early 2016 to rave reviews and began a world tour that will keep them on the road nearly 200 days this year. Derek, 37, is a guitar virtuoso, who famously played with Bob Dylan as a preteen, toured with Eric Clapton in his late 20s and was a member of the Allman Brothers Band for 15 years. Susan, 45, a lauded blues singer and guitarist, was nominated for several Grammy awards throughout her solo career. The couple formed the Tedeschi Trucks Band in 2010, recording albums—and raising their two children—in Jacksonville, where Derek grew up. During a recent break from touring, the couple opened up about their home life, offshore fishing on their Hatteras, eating shrimp and grits with Herbie Hancock and why Derek leaves all the talking to Susan onstage.
ON FLORIDA AND FAMILY
How does the natural setting in Florida seep into your music?
Derek:
You know, I think for us, we have our studio built right into the swamp here, behind our house, and we've made our last five or six records here. In a lot of ways, the band formed in that building. It's definitely in the mix. [caption id="attachment_2408" align="alignright" width="960"]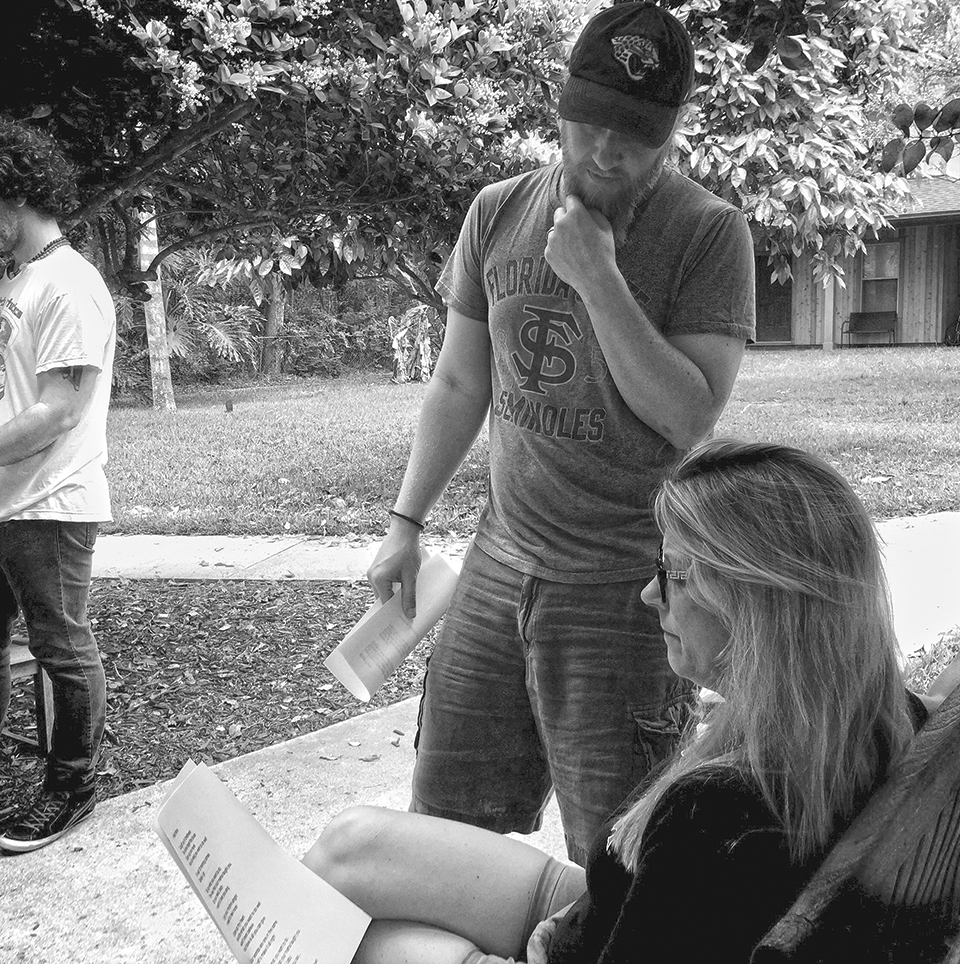 The duo study lyrics at a Let Me Get By studio session. Photography by Tedeschi Trucks Band[/caption]
Susan:
Recording here, being in the nice weather, actually promotes a positive spirit. It comes out in the writing and everything.
Derek:
We've recorded the swamp itself a few times. The frogs and crickets end up on our records. There's a little segue between a song called "Crying Over You" and another one called "Hear Me." The night we were recording, we stepped out of the studio, and the swamp was loud and alive, so we threw some microphones out in the middle of it.
---
Like what you read? Click here to subscribe.
---
 How do you keep family and business separate?
Derek:
I don't think we separate it at all. That's the beauty of loving what you do and meaning it. There's nothing about the music we play, or what we do for a living, that feels unhealthy or unholy. It's not one of those things you have to wash off, and I've certainly been around bands and parts of the music scene that would feel that way—where, when you're home, you don't want to think about it. We love the people we get to play music with, and we love the music we get to make.
How do you balance family demands with being on the road so much?
Susan:
Derek's mom moves right into the house when we go in to work and will take [the kids] to wherever they need to go—to school or baseball or horseback [riding]. And then Derek's brother and sister-in-law live right up the street, too, so they can help out as well, and they have two little ones. It's sort of like a little village.
Derek:
It's kind of the only way to make something like this work. I know me and Susan wouldn't be comfortable being in a band together and out on the road if we didn't have family that close that we can fully trust and rely on. It's a pretty amazing situation. It's not just work, and it's not just music. This whole thing is one big circus.
Describe your Jacksonville for folks who aren't familiar with the Bold City.
Derek:
There's just a ton of great new restaurants, and it feels like downtown, there's a little bit of vibe there, which is nice to see. And you know, we travel so much, you start to get a feel for these things, you can feel cities, when they start turning a corner and revitalizing. And I feel like Jacksonville's starting to take that turn for the better. And it's such a beautiful place. There's so many things to do, especially outdoors. And it's really relatively cheap, kind of insanely cheap for what you can do.
Is there some place or thing that welcomes you back to Florida every time?
Derek:
I don't like airports at all, but whenever I get home, there's something about the calmness of the Jacksonville airport that just feels different than other spots. So that's the first thing that reminds me, "Alright, you can unwind for a few days." And the Dames Point [bridge]—once I get there I realize I'm pretty close to home. And then it's hanging with your kids and dropping them off at the bus stop in the morning for school. Then at about 11 on the first day home, sitting on the back porch looking at the studio, take out a cigar, relax, unwind, that's kind of my only ritual. It forces me to just sit in one spot. Turn your phone off, leave the house phone inside. Let it ring if it rings. I figure if it's an emergency somebody will come get me. They know where I am.
What are some of the personal touches at your home studio, Swamp Raga?
Derek:
My brother David, who lives right down the street, and Bobby Tis, who's the engineer, they really built most of it by hand. Bobby and his dad. He got the blueprints that we initially had and turned it into a proper studio. Anytime we need to soundproof something or change the feel and the sound of the room, we draw up plans and my brother and Bobby knock it out. There's a great place in town where we find old reclaimed wood. We redid part of the control room with just old barn wood. So, the whole thing's a personal touch.
ON THE ROAD
How do 12 band members travel in two buses on the road?
Susan:
Each bus only holds 12 people, and we have 22 of us out on the road. We're all smushed together and don't have a lot of space. Thank God we like each other. I mean, we're used to it, but other people think it's so glamorous and they think it's something that it's not.
And why be such road warriors?
Derek:
We could certainly have a smaller band and spend more money on hotel rooms and nicer buses, but then your music sucks. You just have to put everything you have into what you do, and not the other side of it. There's only so many things in the world that give people real relief, and for me, music is an amazing outlet. I've certainly listened to things that have changed the way I've thought about the world, and I feel like, a band like this, you want to get in front of people and give them a little bit of that medicine.
TTB headlined so many major festivals this year, How does that feel?
Susan:
It's a big accomplishment. We both have worked so hard, even separately, before we had this band, and then with this band. Everyone in this band knows how unique and special this group is, because we have so many talented musicians and we all work really hard and we appreciate any good stuff that comes around, and we're really thankful to get to places like Jazz Fest, never mind headline it. [caption id="attachment_2411" align="aligncenter" width="960"]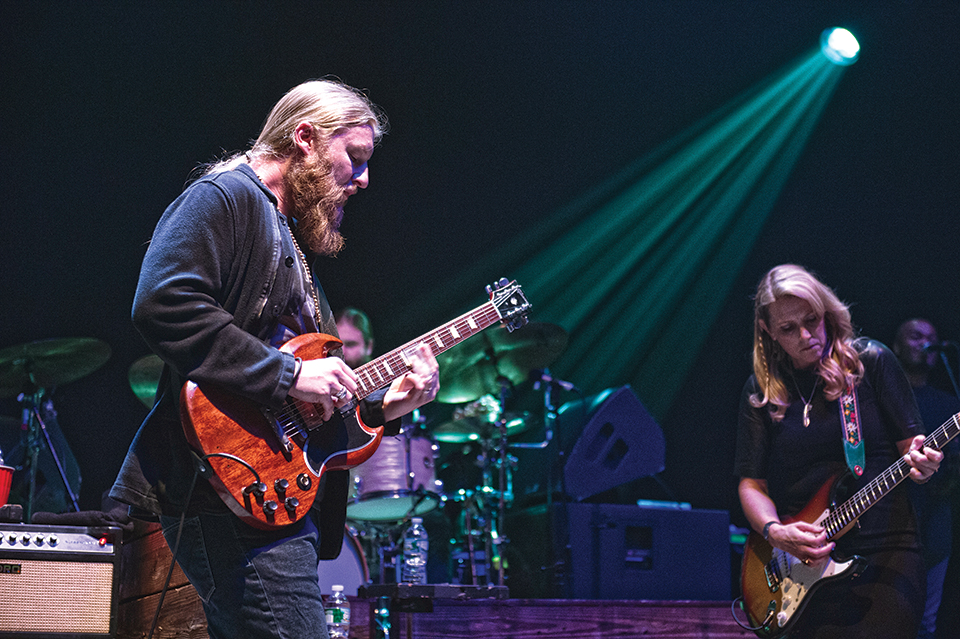 Derek Trucks and Susan Tedeschi perform at the Capitol Theatre in Port Chester, N.Y.; Photography by Geoffrey Tischman[/caption]
Derek:
It's funny because those things sneak up on you. Every once in a while it's nice to step back and go, "Wow, we headlined Jazz Fest, or we played Royal Albert Hall [in London] or the Budokan in Tokyo." You start [out] playing small clubs that are empty, and then a year or two later you're playing the same small clubs, and it's less empty, and then a few years later, it fills up. Then a tour or two later, you're playing bigger venues, and it's been that way for a long time.
Susan:
It's not like it just happened overnight. It's been a long time coming.
Derek:
There are certain festivals we get to headline now that, for 10 years, we couldn't get on the bill. It seems like our band is tailor-made for that festival [but] they won't even return our calls. So it is nice to conquer some of those, finally, and then not only do it but have really great shows doing it.
What's the future of your annual Sunshine Music Festival in South Florida?
Susan:
When it comes to our festival I'm just excited to keep doing it, and have people like the Wood Brothers, bands that we like to see.
Derek:
It seems to be growing a little bit every year. I'd love for that to catch so we could keep adding bands that we love to hear and play with.
DOWN TIME
How do you relax at home?
Susan:
When I'm at home, I'm kind of more in Mom mode. I'm trying to do yoga and pay bills and pick kids up from school and make lunches and bring kids to baseball practice or horseback [riding], so there's not a lot of actual free time, but when I do get it, I want to go fishing with the boys, or I'll go do whatever I can, get out on the water. [caption id="attachment_2409" align="aligncenter" width="960"]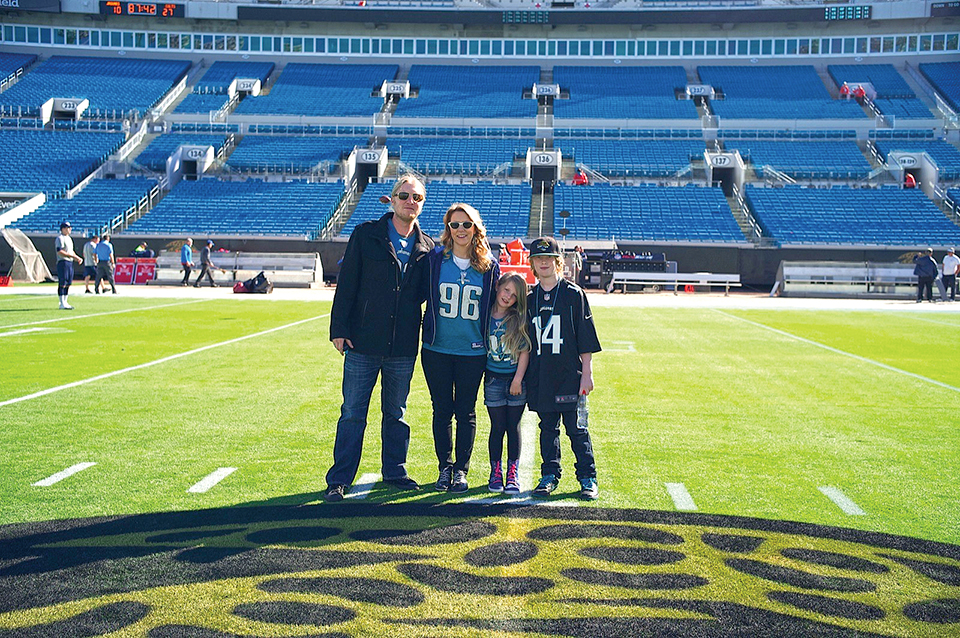 The singers pose with their children after a Jaguars game. Photography by Tedeschi Trucks Band[/caption]
Derek:
We have an offshore boat; it's a Hatteras. We go offshore as much as we can. Our son and daughter have a little jon boat, the tiny boat on the creek here. We spend time on any water we can get on.
Tell us about the Hatteras.
Derek:
It's a 60-footer. It's an older one. We had a center console for 15, maybe 20 years that we fished, and now we just recently got this boat. It is a lot of boat, but it's a dream come true for us. You have these ideas of these things that you'd maybe be able to do at some point. You can find used boats out there that are well maintained. Ours is a '99, but really well maintained, low engine hours. We do all of it ourselves. There's no captains. We clean that sucker. We do the maintenance. We captain it. That's the only way we could pull off having it. But it's more rewarding that way, when you get out there and catch fish, and it's all on you. It's a huge chunk of time and energy, but we love it.
What's her name?
Derek:
Son House
, after the old Delta Blues musician. And probably, my son will live on it at some point. The first trip we took him out on that boat, he caught a 60-pound wahoo, and ever since then, when I'm on the road, he's sending me ocean reports. Just recently, I was in Ames, Iowa, and he's sending me these fishing reports, and I was like, "Charlie, you can't send me those while I'm here. It's not fair. There's no ocean here!"
As Jaguars fans, have you ever thought about playing a stadium show at EverBank?
Derek:
We've been season-ticket holders really from the beginning, my dad and his friends from the first year. And then I kind of took over their tickets. But we've always gone, so our kids grew up going to those games, and it's a great way to kind of detach from the road and everything else. You know, they've talked about building a theater connected to the stadium, a little amphitheater similar to the St. Augustine Amphitheatre, and there's been some rumors about this band playing it.
ON MUSIC
Is there a term of art that you use to describe the music you make?
Derek:
I don't. There's so many different influences that the band pulls from. I mean, it's not a blues band. It's not a jazz group. It's not a rock band. But it definitely pulls from all of those. All of my favorite musicians and all the people that I continue to listen to, whether it's current or old, you just don't accept any of those labels. You're making music that feels good, and wherever it falls it falls. You're not worried about what box it fits in. [caption id="attachment_2413" align="alignright" width="745"]

Let Me Get By (2016), Made Up Mind (2013), Live: Everybody's Talkin' (2012), Revelator (2011); Photography by Tedeschi Trucks Band[/caption]
This September will be your sixth run at the Beacon Theatre in New York. What's the connection with the Beacon?
Derek:
Well, you know, I played the Beacon for maybe 15 years with the Allman Brothers, and they would do multiple nights, I think 15 or 18 shows. It just became this legendary run. You get a connection with the venue and the people that work there and the crowds that come out. When this band formed, we decided we'd book a few shows there and see how it went. We started with a show or two, and we're upping it to six shows this year. I don't think I ever want to get up to a dozen, not that we have that option. But when it's four, six, eight, every show remains really exciting. That really is one of the highlights of the year for the band because you know there's gonna be a lot of people out front that are there for multiple nights, some people for every show, and you want to make sure that you're showing different sides of the group.
Both you and Susan have played with musical greats and legendary performers. Are there heroes you haven't worked with?
Derek:
Just recently we got to sit in and play a few songs with Stevie Wonder. That was pretty surreal. He was certainly at the top of the list. And before that, it was B.B. King. We got a chance to tour with him quite a bit and really get to know him, and that was magic. We've been fortunate. We had Herbie Hancock down to our studio. We recorded a track for his album here, at home, and that was a pretty surreal moment—my dad making fried shrimp and shrimp and grits for Herbie Hancock. I feel like our heroes that we grew up listening to, the ones that are still around, we've run across and a lot of times made great connections with them. We're incredibly fortunate and blessed in that way. But you never stop listening, you're constantly looking for things that move you, so maybe there'll be new names.
What do you have to say to fans who want you to engage more on stage verbally?
Derek:
I just go into that mode, like when you're on your boat, captaining the ship. I'm listening to what everyone on stage is doing. That's the part that I'm engaging, making sure the horn section is doing what they're supposed to do, and the drummers are locked in with the bass player, and Susan's aware of the next turn that we're gonna take, and all of these things. And I think maybe early, early on, watching footage of, whether it was John Coltrane or Duane Allman, or my heroes at the time, it just seemed like when they hit the stage they were tapping into something else. I've seen plenty of guitar players that make faces and hop around and pretend that when you bend a string it hurts your fingers. But it's never been all that intriguing to me. I'd rather see somebody dig down deep and show me something I haven't seen before, you know?
What's your view on music-streaming sites?
Derek:
I think in a lot of ways it's wrecked the whole game for a lot of people. We survive from touring. That's what makes it work for us. There's no income from making records. You do that because it's something you wanna do for artistic reasons only. You can't go to a movie and see it for free when it first comes out, but you can sure listen to a record for nothing. So I think there's a lot of great records that probably will not get made because of the streaming stuff. I get it, if there's a record I wanna hear, you've got to either go to iTunes and buy it, or order an old copy on Amazon, or you can just go listen to it right now for nothing. So it's the easiest choice. I do tell my kids, "If there's a record you really like, you're gonna buy it." I do it just on principle. But you don't expect the whole world to do that. [caption id="attachment_2414" align="aligncenter" width="960"]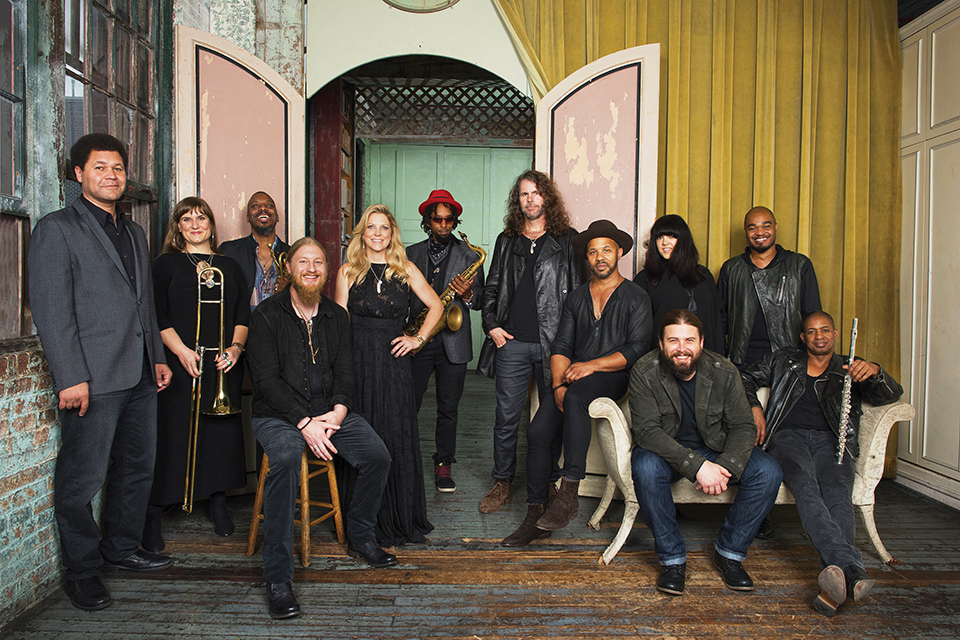 Mike Mattison (Harmony Vocals, Minneapolis, MN), Elizabeth Lea (Trombone, San Diego, CA), Ephraim Owens (Trumpet, Dallas, TX), Derek Trucks (Guitar, Jacksonville, FL), Susan Tedeschi (Vocals & Guitar, Boston, MA), Kebbi Williams (Saxophone, Atlanta, GA), Tim Lefebvre (Bass, Foxboro, MA), J.J. Johnson (Drums & Percussion, San Antonio, TX), Tyler Greenwell (Drums & Percussion, Pensacola, FL), Alecia Chakour (Harmony Vocals, Amherst, MA), Mark Rivers (Harmony Vocals, Charleston, SC), Kofi Burbridge (Keyboards & Flute, Bronx, NY); Photography by Tedeschi Trucks Band[/caption]
Are you listening to a lot of vinyl?
Derek:
Yeah, a lot of bands sell their records on vinyl at shows. Most people listen to music on their phone with really shitty earbuds or Beats, which are just awful. Not many people are hearing things the way they were intended to be heard. I guess new records are made to be heard on shitty speakers. But [when you consider] a lot of the great classic records, people back then had a pretty good hi-fi stereo in their house. When you got a new record, you put it on and you listened to that thing, and you had a pretty good idea of the way it was supposed to be heard. That's changed. But when we make records, we still pretend that people care and people have decent stereos.
Plans for a new album soon?
Derek:
Yeah, there's talk with the band members, and a lot of song ideas floating around. Everybody's ready to get back in and start writing again as a group. Right now, it's just finding time between tours and one of our drummers just had a baby a few days ago. So it's busy, but we'll get back in it.
---
TRUCK STOPS
Susan and Derek's hometown chill-and-chow spots
Julington Creek Fish Camp
12760 San Jose Blvd., Jacksonville
"Food is pretty great, and a really good bourbon list."
Hong Kong Café
4660 U.S. Highway 1 North, St. Augustine
"Dive hole-in-the-wall on the side of the road that's got unbelievable food."
Bowl of Pho
9902 Old Baymeadows Rd., Jacksonville
"Pho soup that's as good as I've had anywhere. We went to Vietnam recently and I was like, 'That spot in Jacksonville kind of holds up.'"
Beach Road Chicken Dinners
4132 Atlantic Blvd., Jacksonville
"You can't do it if you want to work a lot afterwards because everybody needs a nap."
Aardwolf Brewer
1461 Hendricks Ave., Jacksonville
"Fridays and Saturdays they'll bring food trucks in, so there's some pretty amazing food down there."
Sidecar
1406 Hendricks Ave., Jacksonville
"A nice little bar that we hit from time to time."
Corner Taco
818 Post St., Jacksonville
"We go there a lot."