by

The Editors

|

May 27, 2016
Just Hatched: Debuts to Peruse
Openings Around the State
---
NORTH
---
[caption id="attachment_1592" align="aligncenter" width="960"]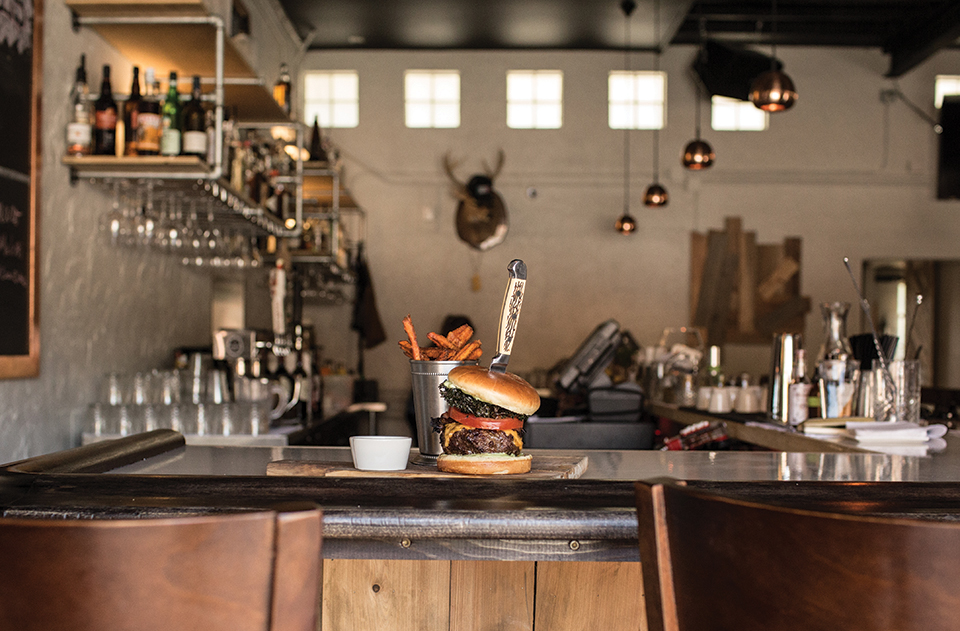 The Union Public House, a London-inspired gastropub in the Panhandle; Photograph by Jacqueline Ward[/caption]
The Union Public House
Pensacola
During his two and a half years working at the Savoy Grill, Blake Rushing became infatuated with London's pub scene. A decade later, he's re-created that convivial atmosphere in his hometown—but with Andouille sausage and pork cracklings in lieu of fish and chips.
The Union Public House
debuted in January, with Rushing in the kitchen preparing upscale comfort food and co-owner Patrick Bolster behind the bar, creating complex and tantalizing craft cocktails. While sipping at the bar, customers notice that the ambience is decidedly down-home. "We have a 9-point whitetail buck on the wall," the chef says. "His name is Leroy and his garb changes when the mood strikes him." The restaurant's motto is "Where it all comes together," Rushing adds, explaining that, on any given night, the bar could have "a doctor sitting next to a tattoo artist sitting next to a lawyer, and that's just the way we like it."
unionfl.com
Watercolor Inn & Resort
Santa Rosa Beach
The Watercolor Inn & Resort
has a fresh face. A major makeover of the Panhandle hideaway, nestled on nearly 500 acres of sugary sand, wrapped up in December. Local interior designer Holly Shipman refreshed the 14-year-old, 60-room property with clean, coastal touches, such as a palm-tree-pattern carpet to mimic the outdoors and sea foam–blue paint and bedding to conjure the Gulf of Mexico. The redressed library, styled with a nautical palette of navy and cream, complete with driftwood-inspired flooring and plush window-seat reading nooks, provides an inviting retreat when the weather is not lounge chair–worthy. Other renovations include the front desk and lobby, bright teal and white spaces accented by local art available for sale, as well as the hotel restaurant, the Gathering Spot & Sushi Bar, which features a rectangular communal table and comfy couches on which to nosh.
watercolorresort.com
[caption id="attachment_1602" align="aligncenter" width="960"]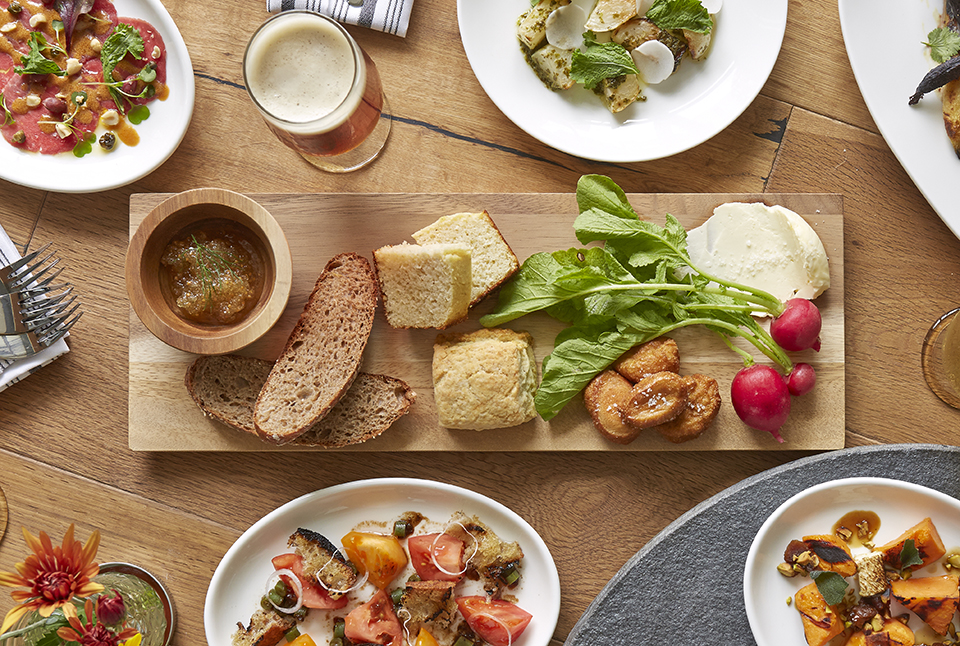 Small plates are just part of the menu at Sbraga & Company; Photograph by Michael Persico[/caption]
Sbraga & Company
Jacksonville
Kevin Sbraga's eponymous restaurant in Philadelphia has racked up accolades in its four short years. Last November, the former
Top Chef
winner expanded his culinary footprint to Jacksonville, which he identified as "an up-and-coming food city," says Evan Geske, general manager of
Sbraga & Company.
The menu consists of eclectic small plates (ideal for sharing), such as grilled octopus served with fried eggplant, mint and field pea salad; fried chicken served with a vadouvan ghee sauce; and middlin' fritters served with pimento cheese and celery salad. An in-house bread program also produces irresistible goodies including biscuits, cornbread and soft pretzel rolls. Chef Sbraga tells
Flamingo
his goal is "to maintain the integrity of the ingredients of the South, while showcasing their diversity." 
sbragadining.com/sbragaandcompany
 Safe Harbor
Jacksonville Beach
NoFla restaurant juggernauts Ben and Liza Groshell (owners of Marker 32, three fish camps and the forthcoming Valley Smoke) joined forces with Chris and Deanna Wooten of Safe Harbor Seafood, one of the Atlantic Coast's largest distributors, to open
Safe Harbor
in early February. Ben and Chris, both avid surfers, who competed against each other in tournaments as teenagers, make this shared bond apparent in Safe Harbor's casual digs that feature wall-mounted boards and sharks, and a soundtrack of beach tunes. The menu is equally chill.Customer favorites: the blackened mahi basket, New England clam chowder, oysters, and anything with fried shrimp. The restaurant overlooks the Intracoastal Waterway and offers indoor, outdoor and patio seating, enclosed by garage-style doors that shelter diners from the elements but not the view.
safeharborseafoodrestaurant .com
[caption id="attachment_1821" align="alignright" width="745"]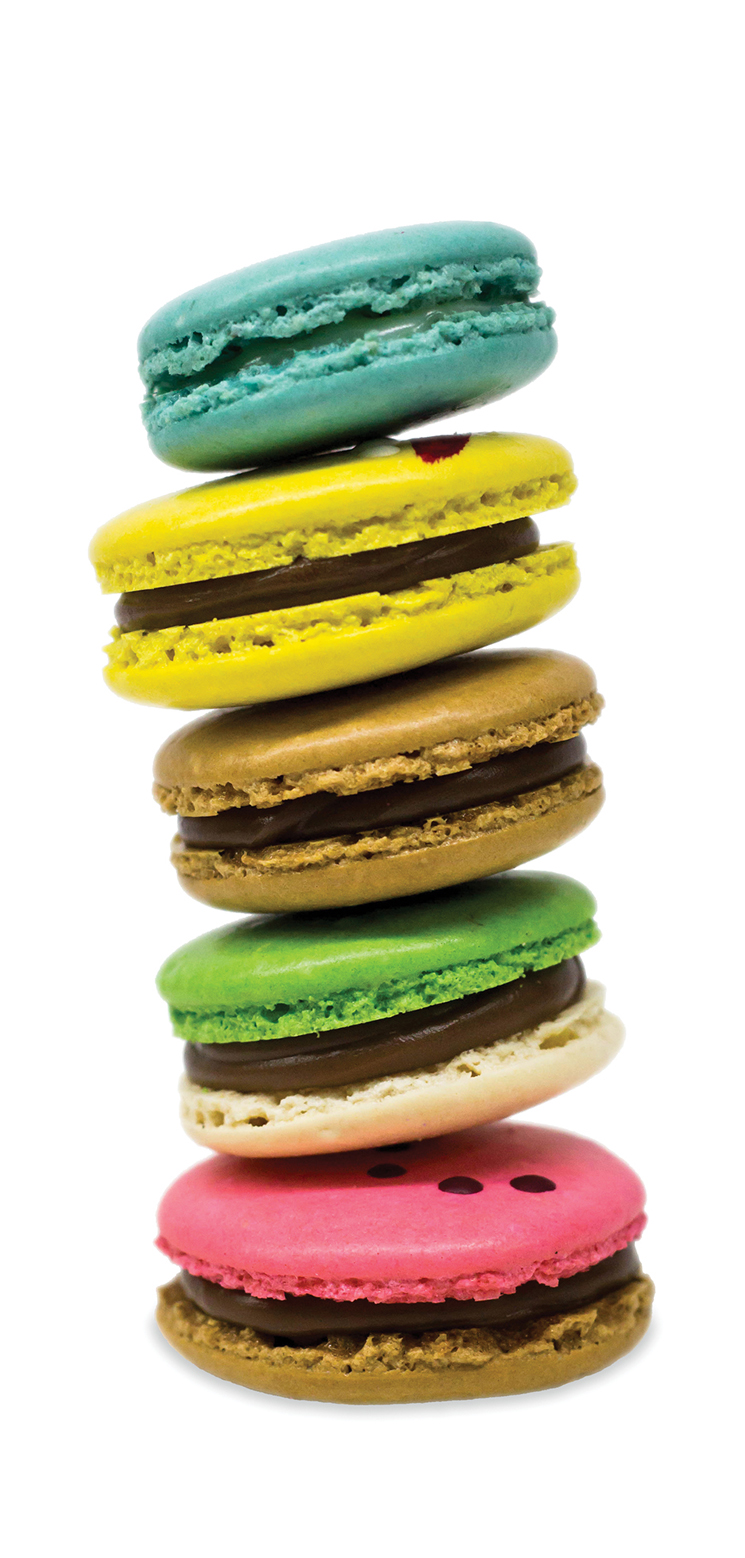 Macarons by Crème de la Cocoa Photograph by Jojo Hernandez[/caption]
Crème de la Cocoa
St. Augustine
Ever since his father taught him to make lemon meringue pie when he was 11 years old, Nils Rowland has been obsessed with creating desserts as fetching as they are decadent. A graduate of the Notter School of Pastry Arts in Orlando, with many years' experience in various resorts in private clubs, he launched last summer his own confectionary shop with his wife—and college sweetheart—Bailey.
Crème de la Cocoa
offers customized cakes along with a smorgasbord of homemade hedonistic delights available for walk-ins. Among the most popular treats: salted caramel or banana curry truffles; the Southern Belle, a gooey pecan pie on a shortbread crust topped with a vanilla bean mousse (Bailey's favorite); and the Florida Native, a creamy Key lime pie layered with pound cake, brushed with a strawberry pur
é
e, and topped with an orange and white chocolate mousse.
cremedelacocoa.com
---
CENTRAL
---
Nineteen 61
Lakeland
Fresh off his post as executive chef at the Lakeland Yacht & Country Club, Marcos Fernandez launched an upscale dining spot in late November. With
Nineteen 61
, Fernandez tells his family's story through food. It's a tribute to his parents' move to Miami from Cuba in 1961. "They left the comforts of their home and had to start over, adapting quickly to unfamiliar resources," he says. "It was a food revolution." The chef's career has taken him to several countries, including Peru, and he has cooked under the tutelage of French and Italian chefs, diversifying his palate and his skills. "This is not a Cuban restaurant; it's Latin-inspired cuisine adapted with local ingredients and techniques from Europe and South America," he says. "I wanted to show how cultures can be brought together with extravagant results."
nineteen61.com
Miguelitos Taqueria y Tequilas
Tampa
On January 26, Miguel's Mexican Seafood & Grill
,
a South Tampa staple since 1992, got a little sister. Located less than a half-mile from the original concept,
Miguelito's
focuses on tequila, tapas, à la carte tacos (fried chicken, pork belly and filet mignon) and customized guacamole. "We take a fresh avocado, mash it, and surround it with fixings for customers to mix as they please," explains owner Miguel Rodriguez. The diminutive restaurant features semicircle booths with gunmetal granite tabletops, a bar up-lit by lights that alternate in color, and shaded outdoor seating. Rodriguez says his goal was to merge "a posh interior with an open-air Miami courtyard." 
miguelitostampa.com
[caption id="attachment_1595" align="aligncenter" width="960"]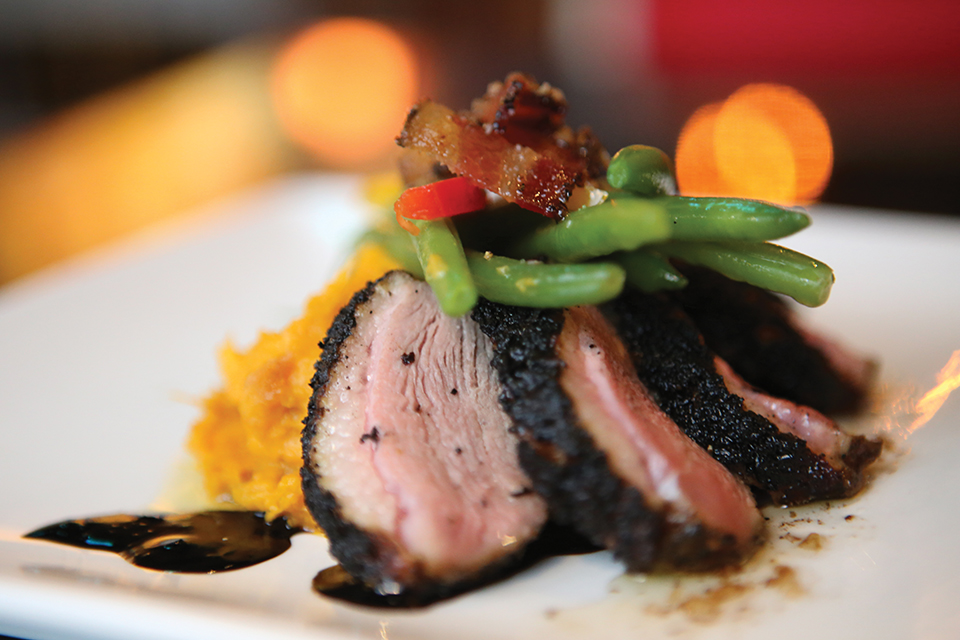 Seared duck breast at The Lure; Photograph by Val Ritter[/caption]
The Lure
St. Petersburg
The Lure, which joined Central Avenue's lineup
o
f bars and restaurants in mid-January, offers a little something for everyone with a vibe that's part beer hall, part tiki bar and part billiard room, and a menu that includes everything from sushi rolls to flatbreads. There are even tacos made with deep-fried grasshoppers—for the truly epicurious.
The Lure's
design scheme features cheeky murals, such as a boozing chimpanzee, painted on exposed brick walls. Its horseshoe-shaped bar provides USB plugs so guests can recharge their gadgets while they recharge their spirits with a cold beverage. "We're focused on having a good time," says Tom Golden, one of The Lure's owners. "Anyone could come here and feel comfortable."
thelurestpete.com
[caption id="attachment_1598" align="aligncenter" width="960"]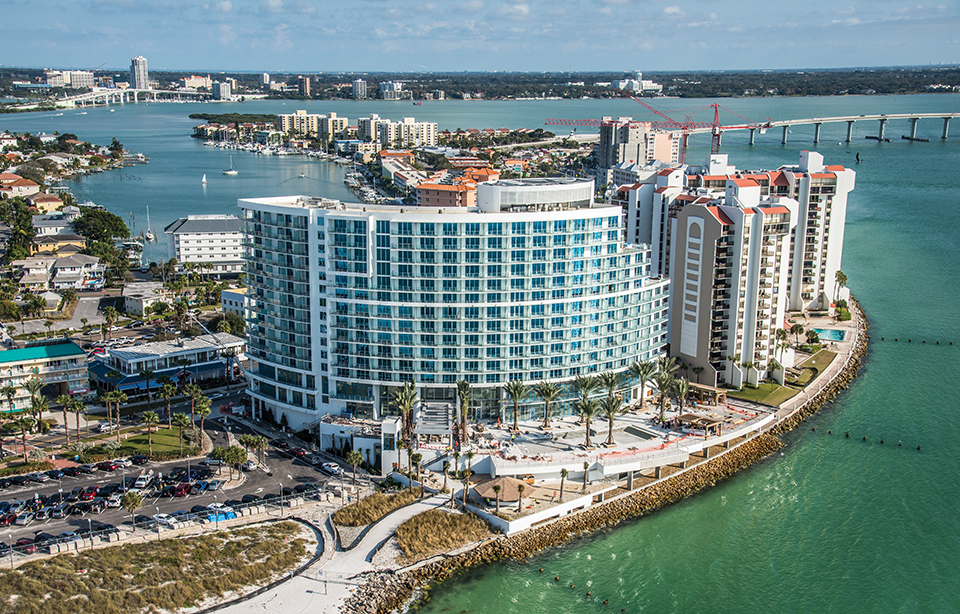 The Opal Sands Resort in Clearwater offers a "Gulf front guarantee". Photograph by Opal Sands Resort[/caption]
Opal Sands Resort
Clearwater Beach
On the heels of its "best beach in America" designation this winter, Clearwater gained a new high-end resort that lets guests luxuriate in the splendor of the pristine white powder and the Gulf of Mexico beyond it. In fact, the
Opal Sands
, which opened in February, has a "Gulf front guarantee." All 230 rooms have floor-to-ceiling windows and balconies facing the water for an unobstructed panoramic view. A zero-entry swimming pool offers similar scenery, albeit from a lower vantage point. Christopher Stills, a painter from Tarpon Springs whose work appears in both the Florida's Governor's Mansion and the Smithsonian Institution, played a central role in collaborating on artwork for the property, which boasts a turquoise-color, beach-inspired decor. Opal Sands' on-site restaurant, Sea-Guini, provides a deeper appreciation for the Gulf with a menu that incorporates freshly caught seafood in Italian-inspired dishes.
opalsands.com
---
SOUTH
---
The Rosemary
Sarasota
In his mission to create a restaurant unlike any other in town, restaurateur George Armstrong, a 28-year veteran in Sarasota's culinary scene, leaned on his personal history. "I'm an Air Force brat, born in Bermuda and raised in Austin, Texas," he says. Since
The Rosemary
opened in November, locals have clamored for dishes from his childhood, including Bermuda fish cakes, made of grouper and snapper trimmings, potatoes and bread crumbs; Bermuda fish chowder, a recipe that's been in his family for seven generations; beef brisket, smoked 13 to 15 hours and sweetened with a homemade barbecue sauce; and a chicken fajita omelet. However, Armstrong maintains that most menu items spring from the ingenuity of the Rosemary's chef, Carlos Cruz, an alumnus of the Culinary Institute of America. "He's incredibly talented, especially with his sauces," Armstrong says. Glass doors and picture windows let in plenty of natural light for a fresh, airy environment that mirrors the restaurant's use of fresh, local ingredients.
therosemarysarasota.com
[caption id="attachment_1599" align="aligncenter" width="745"]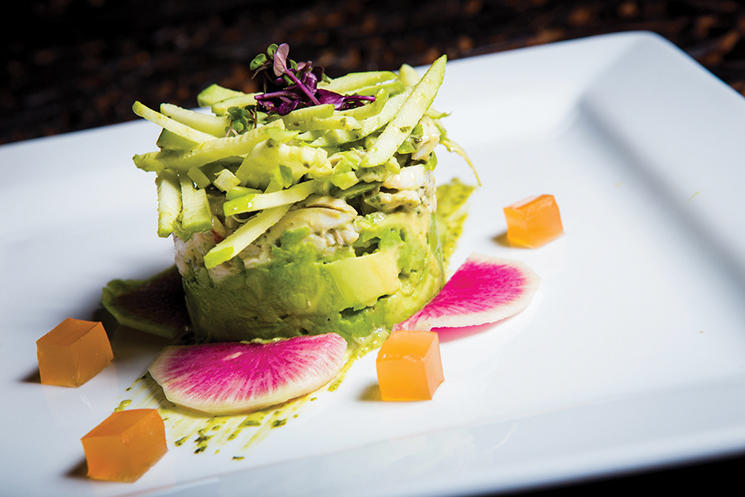 Lump crabmeat with avocado, green apple, Yukon gold potatoes, basil aioli, grapefruit jelly and sliced radishes at Servandos; Photograph by Leo Mayrinck[/caption]
Servandos
Sarasota
The coral-color stucco building draped with bougainvillea blossomed in December with
Servandos
, a Pan-American/Mediterranean restaurant. At the helm: Joe DiMaggio Jr. (yes, he's related). DiMaggio apprenticed for master chefs in France and Japan, cooked for numerous celebrities and served as a spokesperson for the Florida Department of Citrus. His menu has an array of sophisticated tapas, such as foie gras and chicken liver mousse with jellied ginger kumquat; shawarma with mint yogurt; ceviche; and grilled octopus. Among the full-size entrées: miso-and-raw-sugar–encrusted sea bass and crab paella. Eating is only half of the Servandos experience. Local artists set up easels in the restaurant for a live demonstration of their craft; it's also a popular
live music venue. 
servandossarasota.com
[caption id="attachment_1823" align="aligncenter" width="960"]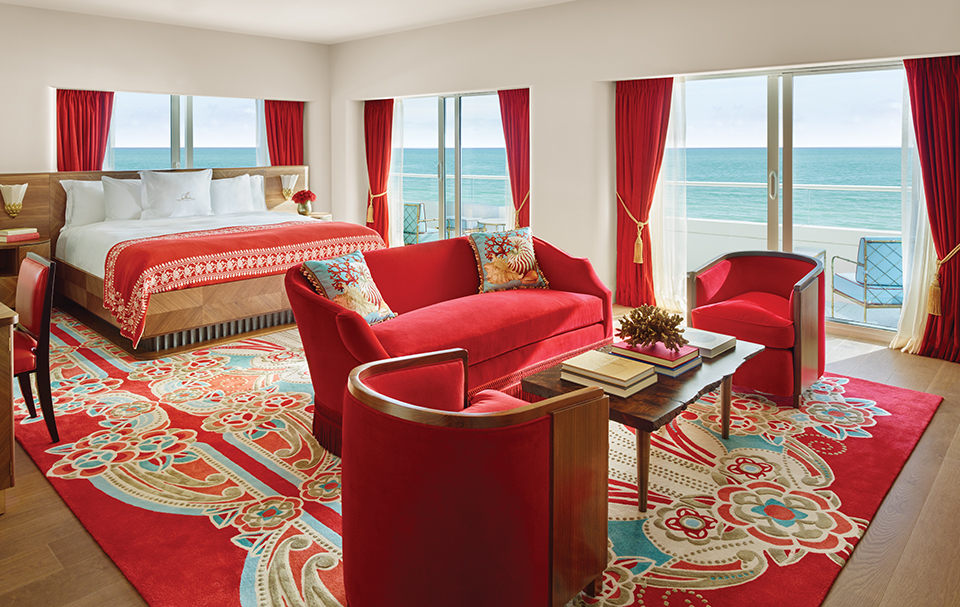 Suite at the Faena Hotel; Photograph by Faena Hotel Miami Beach[/caption]
Faena Hotel Miami Beach
Miami Beach
Argentine hotelier Alan Faena has reinvented the historic Saxony Hotel, built in 1947, which reigned as the epicenter of glamour, with guests like Frank Sinatra and Marilyn Monroe. In his reboot of the property, which now bears his name, Faena conspired with film director Baz Luhrmann and Academy Award–winning costume designer Catherine Martin to create a visual narrative that recalls the allure of mid-century Miami. They selected hardwood floors overlaid with sumptuous carpeting in a red and aqua palette, floor-to-ceiling murals with tropical scenes, animal-print ottomans, and many gilded accents—most notably a 9-foot-tall, 24-karat-gold woolly mammoth skeleton that bedazzles the hotel's garden.
The Faena Hotel
Miami Beach, which opened in late 2015, also boasts two high-end restaurants, led by celebrated chefs Francis Mallmann and Paul Qui; a 22,000-square-foot spa complete with an ice chamber and oceanfront treatment rooms; a 3,000-square-foot theater primed for entertainers; and butler service on every floor. 
faena.com/miami-beach
Jardin
West Palm Beach
Newlywed chefs, Jordan Lerman and Stephanie Cohen, share a love for American fare made with international flare at
Jardin
, which opened in April. An open-kitchen design gives guests a taste of the culinary action while a lush courtyard offers a quieter perch. The chefs, both trained at the Culinary Institute of America, draw on wide-ranging influences from Israel to Panama, France and, of course, their home state of Florida in creating a seasonal menu, which ranges from stripped-down dishes like the house-made charcuterie and cheese plate to more daring choices like pan-roasted gator ribs with mojo, accompanied by sweet plantains and black-eyed-pea hash. Polish it all off with a donut tower or chocolate crème brulee. "I always hoped to return home to open my own restaurant—and the timing is perfect," says Lerman. "There is a movement afoot, a revitalization that definitely includes the dining scene, and Stephanie and I very much want to be a part of it."
jardinrestaurant.com
[caption id="attachment_1601" align="aligncenter" width="960"]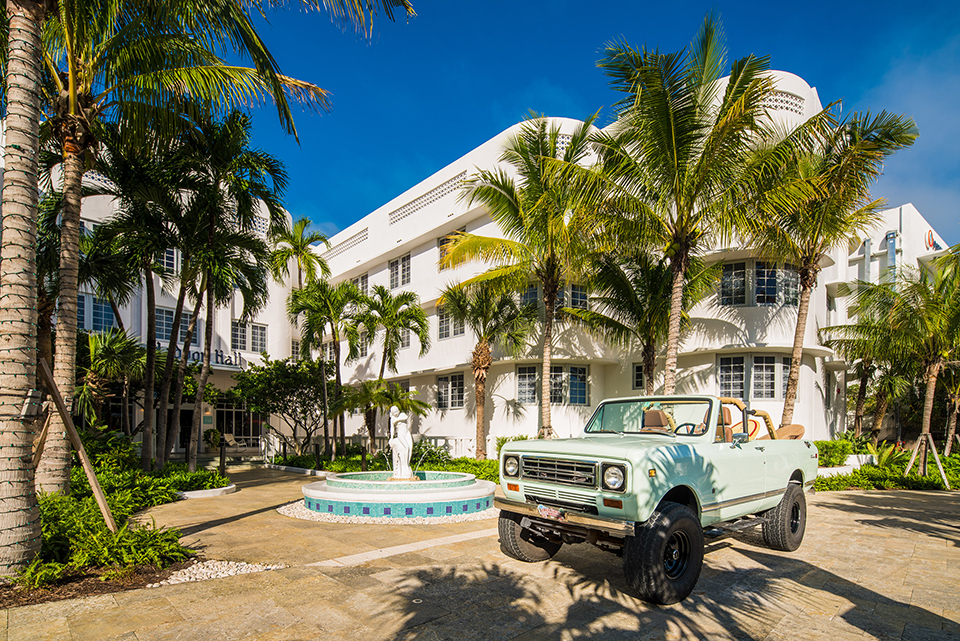 Photograph by The Hall South Beach[/caption]
The Hall
Miami Beach
Nestled in the heart of South Beach's Art Deco district,
The Hall
, which opened last fall, offers a fun and fresh Bohemian outpost within walking distance of the ocean, nightclubs, shopping and Española Way, a historic neighborhood. The Hall's 163 rooms sport a breezy ambience with Tiffany blue walls and dressers, a print of palm trees silhouetted against a sunset, and succulent planters. The hotel's hallmark, however, is its bustling "backyard," complete with an Olympic-size swimming pool, cabanas and Sunny's—a courtyard eatery by
Top Chef
alum Spike Mendelsohn, serving a wide range of appetizing items from lobster rolls and chicken and waffles to ceviche and squeezed-to-order juices. 
jdvhotels.com
Smooshies
Key Biscayne and Miami
When Gigi Alibhai was a child in Cuba, her mother tried to make her family's life as sweet as possible; a worker in a candy factory, she'd fashion homemade toys out of leftover treats. Now Alibhai, a mother of three, carries on that legacy with
Smooshies
. "It's a place for kids to be kids," she says of the toy emporium, candy store, ice cream parlor and coffee shop. "No one has to worry about being quiet." Wooden shelves display a vast collection of toys, from hand-painted puzzles and picture books to drawing sets and science kits. Plastic bins contain more than 150 types of candy, including retro varieties like Whirly Pops, as well as organic and sugar- and gluten-free options. Liquid nitrogen ice cream is made-to-order using a mixer and dry ice, creating an exciting show of billowing, frosty smoke.
smooshies.com